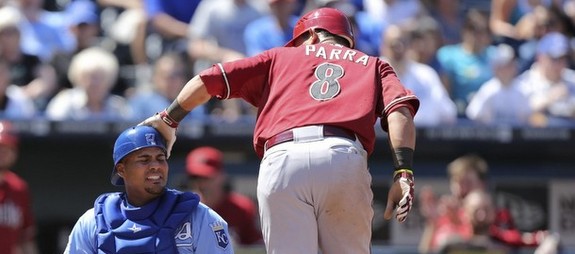 Expectations were high for the Royals coming into the season, or at least higher than they had been in the past. Instead, injuries and ineffectiveness have them anchored to the bottom of the AL yet again.
What Have They Done Lately?
Since these two teams met in Kansas City two weeks ago, the Royals have won seven of 12 games. They just lost two of three to the Diamondbacks and four of five overall, however. KC is 16-24 overall with a -22 run differential, both representing the second worst marks in the AL. They should send the Twins a gift basket.
Offense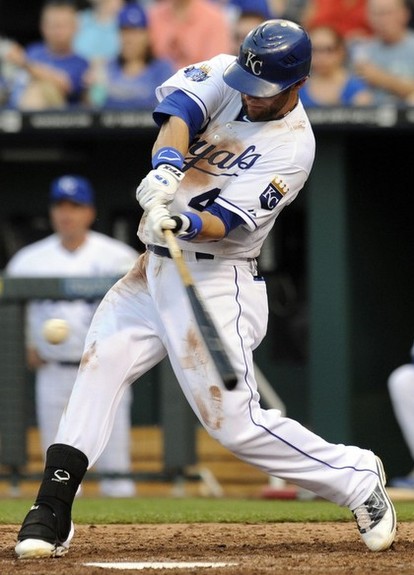 Billy Butler and Mike Moustakas (138 wRC+ for both) have been carrying a lineup with a number of under-performers. Eric Hosmer (48 wRC+) was benched late last week in an effort to clear his head, but he'll be back tonight (he played yesterday). Both Alex Gordon (87 wRC+) and Jeff Francoeur (74 wRC+) are playing like past versions of themselves, not the guys they were last season. That's three players who were supposed to be key pieces of the offense who haven't done much so far. Sound familiar?
Chris Getz (99 wRC+) and Jarrod Dyson (81 wRC+) haven't been great but Alcides Escobar (113 wRC+) has, and all three are doing more than expected. The catcher platoon of Brayan Pena (70 wRC+) and Humberto Quintero (82 wRC+) has been unproductive, though Quintero's always been a defense-first guy. Role players like Johnny Giavotella (44 wRC+), Mitch Maier (75 wRC+), and Irving Falu (177 wRC+) have been hit or miss in limited playing time. Overall, the Royals average 4.0 runs per game with a 93 wRC+, both middle of the pack.
Pitching Matchups
Monday: RHP Hiroki Kuroda vs. RHP Felipe Paulino
Paulino came off the DL to throw six shutout innings against the Yankees a few weeks ago and he's since gone on to have an okay start against the White Sox (four runs in 5.2 IP) and a great one against the Orioles (seven scoreless). The 28-year-old right-hander has a 1.93 ERA (2.22 FIP) with great peripherals: 10.13 K/9 (28.0 K%), 2.41 BB/9 (6.7 BB%), and 43.8% grounders. Paulino uses both a four-seamer and two-seamer in the mid-90s with a mid-80s slider and a high-80s changeup. The slider is his top secondary offering in both effectiveness and usage.

Tuesday: RHP Phil Hughes vs. RHP Luke Hochevar
The Yankees pounded Hochevar two weeks ago — seven runs in 2.1 IP — and are part of the reason why he owns a 7.02 ERA despite a 3.68 FIP. His strikeout (6.37 K/9 and 16.3 K%), walk (3.07 BB/9 and 7.9 BB%), and ground ball (42.7%) rates are generally underwhelming. The 28-year-old legitimately throws six pitches: low-90s four-seamer, low-90s sinker, high-80s cutter, mid-80s changeup, mid-80s slider, and upper-70s curveball. That's too many pitches and Hochevar often gets beat on his fourth, fifth, and sixth best offering.
Wednesday: LHP Andy Pettitte vs. RHP Luis Mendoza
Mendoza came out of the bullpen two weeks ago to hold the Yankees to two runs in 4.2 IP following Hochevar's disaster. The 28-year-old swingman is back in the rotation after a stint in relief because Danny Duffy will miss the season due to Tommy John surgery. His 5.03 ERA and 4.59 FIP probably undersell how ineffective he's been, specifically posting more walks (21) than strikeouts (17) in 34 IP. Mendoza relies heavily on a low-90s two-seamer, mixing in the occasional low-90s slider and changeup. The right-hander is a classic Quad-A pitcher, has been his entire career.
Technically, this spot is actually listed as TBA by Kansas City, but all signs point to Mendoza getting the ball. A minor league call-up is always possible, however.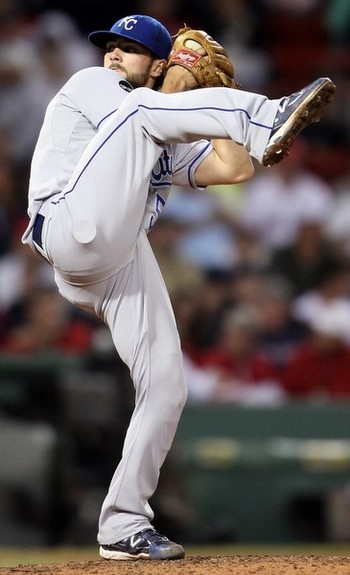 Bullpen Status
Injuries have done a number on the Royals' pitching staff this year. Duffy and Joakim Soria are both out with elbow surgery, Jonathan Sanchez is on the DL with a biceps problem, and Everett Teaford is out with an abdominal injury. Long reliever Nathan Adcock (4.85 FIP) has taken Sanchez's spot in the rotation, though taking his bullpen spot is uber-setup man Greg Holland (1.81 FIP). He was on the DL with a ribcage issue the last time these two clubs met.
Closer Jonathan Broxton (3.86 FIP) did not pitch yesterday but Holland has appeared in two straight. Aaron Crow (3.33 FIP) is more than qualified for eighth inning work in Holland's stead and like Broxton, he did not pitch on Sunday. Hard-throwing right-hander Kelvin Herrera (4.32 FIP) threw two innings and 28 pitches yesterday, so we might not see him tonight. Lefties Jose Mijares (3.78 FIP) and Tim Collins (2.82 FIP) both had yesterday off and are good to go today. Right-hander Louis Coleman (4.73 FIP) pitched yesterday and in three of the last four games. Overall, the Royals' bullpen owns a 3.90 FIP, which is actually a bottom ten mark in baseball. They're better than that, or at least they have the potential to be.
Joe Girardi's bullpen is fresh, with no one who's appeared in two straight games or threw more than 18 pitches on Sunday. David Phelps did throw 40 pitches on Saturday, so he might be off limits tonight. Otherwise, check out our Bullpen Workload page for an update on everyone's workload. For the latest and great on the Royals, we recommend Royals Review and Royals Authority.