It's been a month since the last time these two clubs met, when the Rays swept the Yankees in the season-opening three-game series at Tropicana Field. Now they're back at Yankee Stadium, and the last time they played here was when the Yankees clinched the AL East title last September. That's a better memory, let's hang onto that one this week.
What Have They Done Lately?
Tampa has lost their last two games to the Athletics, but before that they'd won six in a row and 12 of 13. They sit atop the division with a 19-10 record but are tied with the Yankees in run differential at +12 apiece. The Rays may be 13-3 at home, but they're just 6-7 on the road this year.
Offense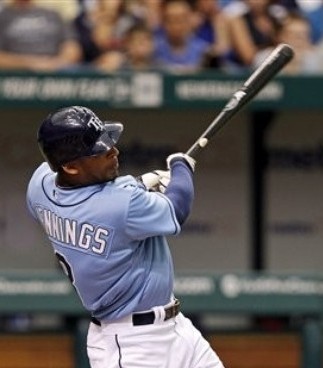 After finishing last season with a nearly perfectly average 103 wRC+, the Rays are up to a 116 wRC+ this year and aren't too far behind the Yankees in the offensive department (122 wRC+). At 4.59 runs per game, Tampa is one of the better hitting teams in the league, capable of both stealing bases (20) and hitting homers (37). The Rays always play the Yankees tough, either offensively or defensively.
Evan Longoria (171 wRC+) is currently on the shelf with a torn hamstring, but Matt Joyce (175 wRC+) is off to his customary hot start while Carlos Pena (146 wRC+), Luke Scott (127 wRC+), and Desmond Jennings (122 wRC+) provide plenty of support. B.J. Upton has produced a 156 wRC+ after starting the season on the DL and Ben Zobrist (108 wRC+) has yet to really get going. Sean Rodriguez (70 wRC+) is pretty much the only everyday player in Tampa's lineup that is a below average.
The rest of the group is a hodgepodge of platoon players. Jeff Keppinger does his best work against lefties (224 wRC+) while Brandon Allen and Will Rhymes do their best work against righties even though they only have a handful of plate appearances this year. Catchers Jose Molina (68 wRC+) and Chris Gimenez (42 wRC+) don't hit anyone and are there for defense. Same deal with Elliot Johnson (69 wRC+), who frankly has no business getting as much playing time as he has for a contender.
Pitching Matchups
Tuesday: RHP Ivan Nova vs. RHP Jamie Shields
The Yankees pushed six runs across in five innings against Shields on Opening Day, but he's since gone on to allow just eight earned runs in five starts and 36.1 IP. The changeup master pitches backwards with low-80s curveball and three low-90s fastballs: four-seamer, two-seamer, and a cutter/slider. We've seen more than enough of Shields over the last few years, so know what he's all about. He's a tough assignment but can be hit when he doesn't have a feel for the change.
Wednesday: RHP David Phelps vs. RHP Jeff Niemann
We didn't see Niemann during that first series in Tampa, though the big right-hander has pitched pretty well in his first five starts (4.05 ERA and a 3.40 FIP). He's a true five-pitch guy with a low-90s four-seamer, a low-90s two-seamer, a mid-80s slider, a low-80s changeup, and an upper-70s curveball. The slider and changeup do take a back seat to the other pitches. Niemann is missing more bats (8.44 K/9 and 22.1 K%) than ever before, but he has yet to complete even six innings in a start this season. Apparently they have a real quick hook with him because his performance heads south after 75 pitches. That'll be something to watch.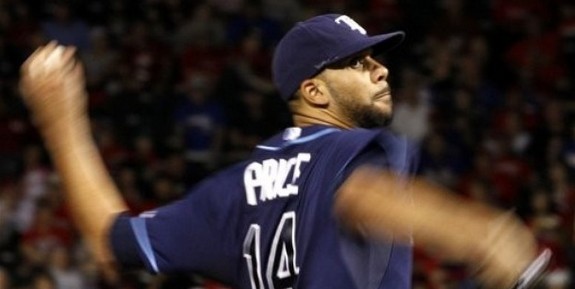 Thursday: LHP CC Sabathia vs. LHP David Price
Another guy we're very familiar with, Price has been magnificent over his last three starts: 23.1 IP, 14 H, 3 R, 1 ER, 3 BB, 24 K. Yeah, I'm feeling pretty good about my Cy Young pick so far. Price held the Yankees to two runs back in April, though they did put nine men on base in 6.1 IP. His repertoire hasn't changed at all — mid-90s four-seamer, mid-90s two-seamer, high-80s slider, low-80s changeup, and high-80s changeup — but he's started getting more ground balls in additional to all those strikeouts. Price was awesome in 2010, got better last year (although it doesn't show in the ERA), and has improved even more this season. Not fair.
Bullpen Status
Both teams had Monday off, so the bullpens are nice and fresh. Tampa closer Fernando Rodney apparently throws strikes now (1.86 FIP), which is pretty annoying. He'd been a walk machine for years. Setup men Joel Peralta (3.51 FIP) and J.P. Howell (2.59 FIP) have been effective, as has second lefty reliever Jake McGee (1.57 FIP). Ground ball guy Burke Badenhop (5.45 FIP but 54.2% grounders) has taken it on the chin a few times in middle relief. Long man Wade Davis (2.88 FIP) has done well in his new role and the left-handed Cesar Ramos (just one inning this year) was just called up for extra depth. He's more of a multi-inning guy than a specialist.
Overall, the Rays' bullpen has pitched to a 4.45 ERA and a 3.75 FIP, middle of the road numbers in the league. They had some games earlier in the season, particularly against the Red Sox, where the bullpen got really wrecked and skewed the numbers. It's a solid relief corps, particularly since Shields and Price will soak up some innings in two of the three games. For the latest and greatest on Tampa, check out DRays Bay.