Before plating five runs in the third and Nick Swisher's go-ahead sacrifice fly in the sixth, Curtis Granderson set the Yankees up for a quick strike last night by doubling with one out in the first inning. There's nothing unusual about that on the surface, but this double was different that most of Granderson's doubles. It was an opposite field double, landing perfectly in left-center between the ball-hawking Mike Trout-Peter Bourjos combination.
Granderson isn't exactly an all-fields type of hitter. He pulls the ball for big-time power and is tremendously successful doing so. One opposite field double doesn't mean much of anything, but take a quick look at his spray chart for the six-game West Coast road trip (via Texas Leaguers)…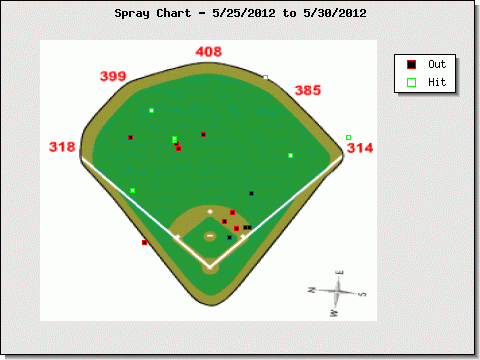 Of his seven hits in the six games, four were to the opposite field and two were yanked to right for homers. The one hit that hugged the left field line was a total bloop, but the other three hits to left were solid line drives. All three came on pitches on the outer third of the plate from right-handers (Tyson Ross and Ervin Santana), so Granderson just flipped them to the opposite field. It's pretty neat. A nice piece of hitting, as the pundits say.
The four opposite field hits on the road trip give Curtis nine such hits this season, one fewer than he had all of last year. His .378 wOBA to left is a top-20 mark among all left-handed hitters and far better than his .304 career mark. We haven't heard anything about a conscious effort on Granderson's part to hit more to the opposite field and it could all just be a fluke this early in the season, but it's definitely something worth keeping an eye on. Anything that diversifies his offensive impact without taking away from that huge power is a major plus.