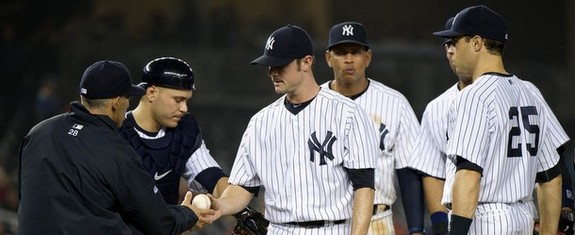 Nothing in baseball is more deflating than grabbing defeat from the jaws of victory, the dreaded blown save/loss combination in the ninth inning. The Yankees flirted with disaster on Tuesday before getting the 27th out but were not as fortunate last night. David Robertson's reign as the team's closer is off the very shaky start, as in seven baserunners in 1.2 innings shaky. Blown saves are bad enough, but blown saves this early in a player's closing career raise serious questions.
No one asked me, but I think Robertson is very capable of closing not just in the big leagues, but for a big-time contender like the Yankees. The stuff is obviously there and based on the last three years, the competitiveness appears to be there as well. That said, I think David's getting a little too caught up in the moment and is trying to be too fine right now. He's trying to be Mariano rather than just being himself, so to speak. As Boone Logan said after the game, Robertson might be "overthinking a little bit instead of just letting it go."
Bad things usually happen whenever an athlete thinks, and I think Robertson's just trying to be perfect rather than himself. He's not Cory Wade (no offense, Cory), he doesn't need to paint the black and fool hitters to be successful. That 31.8% career strikeout rate isn't an accident; Robertson can make mistakes over the plate and get away with them because his fastball is lively and his curveball cracks like a whip. Yeah, there is less margin for error in the ninth inning, but one of the absolute biggest mistakes Robertson can make is getting away from what got him in the closer job in the first place.
Tonight sucked, but if there is one thing Mo has shown me it's how important it is to turn the page.

— David Robertson (@DRob30) May 10, 2012
For what it's worth, David stood at his locker and answered every question following last night's game. It doesn't mean all that much in the grand scheme of things but accountability is always appreciated, especially when the alternative is ducking reporters and making it appear as though he doesn't care. I don't think not caring has ever been an issue here.
"Just a sad way to end the game," said Robertson last night. "It's going to happen. You're going to lose games. It's the worst feeling in the world. Mo does it, he comes back the next day and he's the same guy. He goes right back out there and does his thing. I'm going to have to do that tomorrow."
Of course, Robertson almost certainly will not get a chance to redeem himself today. He's pitched in very stressful situations in each of the last two days and Joe Girardi doesn't like to run his relievers out there three days in a row, especially this early in the season. I do think it's important for Robertson to get back out there relatively soon though, even in a non-save situation just so he doesn't dwell on last night's disaster. Turning the page is a lot easier to do when you're not sitting around waiting for your next appearance. Blowing saves is part of life, so Robertson just needs to work through this and be ready to go next time he's called upon.