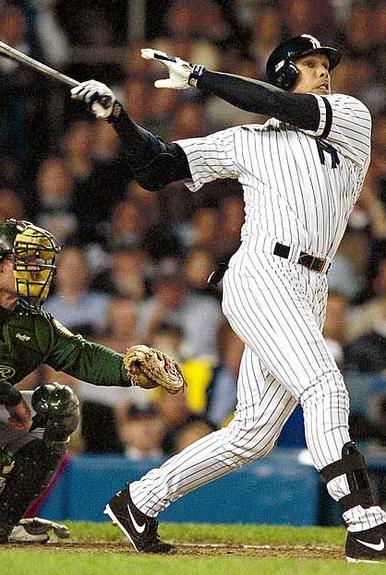 It's the middle of May and the season is barely six weeks old, but it's never too early to start looking ahead to the trade deadline. The Yankees didn't make a single trade at least year's deadline despite the assumption that they'd acquire a starting pitcher, but that was the exception and not the rule. They're always good for a deal or two come late-July and this year figures to be no different.
I don't think the Yankees have one obvious part of the team in desperate need of an upgrade, but there's always room for improvement. The recent rash of injuries has potentially  created some openings as well. The new playoff system may or may not ramp up activity at the trade deadline; we're going to have to wait to see just how many teams are legitimately in the race before we know who may be looking to sell and and who's looking to buy. The smart money is on the Yankees looking to buy, as always.
Let's run down the parts of the roster that look primed for a potential upgrade via trade, at least at this very moment…
Starting Rotation
The Yankees do still have some rotation depth despite Michael Pineda's injury and Freddy Garcia's awfulness, but the starting staff remains questionable. Phil Hughes has a long way to go before proving reliable and Andy Pettitte is going to be an unknown for at least the next few times out given his age and year-long hiatus. Ivan Nova's extra-base hit-prone ways could factor into the decision to add a starter at the deadline as well.
It's been eight years since the Yankees last traded for a starting pitcher with multiple guaranteed years left on his contract — Kevin Brown was the last — and I don't expect that to change anytime soon. A rental pitcher is likely to be the target if they do look to add a starter, though I suppose a younger guy with several years of team control left is possible as well. I just find that unlikely at this point. Free agents to be like Cole Hamels, Zack Greinke, Jake Peavy, and Ryan Dempster could all be available and would make sense for any team in need of an arm.
Outfield
A trade for outfield help is dependent entirely on Brett Gardner's elbow injury. He recently suffered a setback and could be out anywhere from two-to-four weeks, which will bring us into mid-June. If Gardner gets healthy and comes back like his old self, the Yankees are fine don't need any outfield help. If this elbow problem lingers, then an outfield upgrade could suddenly become priority number one come July.
Unlike the other positions in this post, outfield figures to be the one area where the Yankees could look to make a long-term addition and not just a rental for the second half. We know all about the 2014 payroll plan and impending free agencies of Nick Swisher (after 2012) and Curtis Granderson (after 2013), which create a need for a cheap, young outfielder. Gardner's injury could push them into action sooner than expected, but ultimately I think the search for a long-term outfield piece would wait until the offseason.

Bullpen
Mariano Rivera's injury is the big loss here and it's created an opening for another late-game reliever. Until we hear otherwise, I think it's reasonable to expect David Robertson back from his oblique strain relatively soon, but it's hard (if not foolish) to count on Joba Chamberlain and/or David Aardsma to contribute something in the second half. Those were serious injuries that usually require more than just the 12 months worth of rehab for a pitcher to get back to being himself.
Trading for relievers is as sketchy as it gets because sometimes these guys just suck for no apparent reason and without warning. If the Yankees do make a deal for a reliever at the deadline, I think it would be something along the lines of the 2010 Kerry Wood trade. A salary dump move with mostly insignificant prospects involved.
Bench
Eduardo Nunez's defensive problems have landed him back in Triple-A and I don't think anyone really expects Jayson Nix to be a weapon off the bench. He's more of a stopgap option. A utility infielder could be high on the trade deadline priority list if Nunez doesn't show improvement in Triple-A and there figures to be no shortage of candidates. This is just my speculation, but the Rockies are fading fast and Marco Scutaro would make a ton of sense for New York. Again, there's no evidence that the Yankees are interested in him or that he's even available, but he would fit perfectly as a utility infielder capable of playing regularly while Derek Jeter and Alex Rodriguez rest.
Barring injury, Andruw Jones and Raul Ibanez provide enough outfield depth. Doesn't seem like the Yankees will look to add a fourth or fifth outfielder, but again this is contingent on Gardner's elbow.
* * *
We'll look at potential trade targets in the coming weeks and I plan to break down the Yankees' top trade chips at some point, which believe it or not is actually easier said than done. Things are different when Jesus Montero is no longer around and most of the club's high-upside prospects are in the low minors. Anyway, at this point of the season it appears as though the Yankees' trade deadline activity will be heavily influenced by the players currently on the DL and how well/quickly they return.