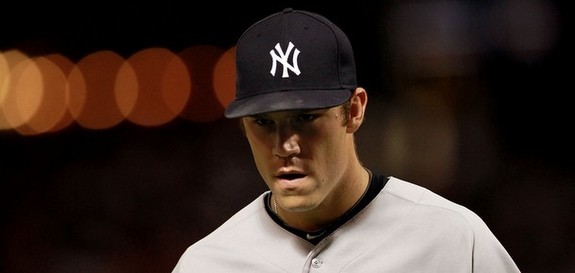 We're not used to the Yankees not scoring runs 'round these parts, so it becomes painfully obvious rather quickly when the team is in a collective offensive slump. I suppose the good news is that over the last few years, the Yankees are 23-8 in games immediately following a shutout loss (via Mark Feinsand). If only had was meaningful in some way. Here's the lineup, which looks quite a bit like last year's primary setup…
DH Derek Jeter
CF Curtis Granderson
1B Mark Teixeira
3B Alex Rodriguez
2B Robinson Cano
RF Andruw Jones
SS Eduardo Nunez
C  Russell Martin
LF Jayson Nix
RHP David Phelps
Tonight's game starts at 8:10pm ET and can be seen on YES locally and MLB Network nationally. Try to enjoy.
Nick Swisher Update: Swisher will take some swings in the cage today and if he comes through that well, he'll do some running tomorrow for the first time since feeling his hamstring grab over the weekend.
Mariano Rivera Update: The Yanks' closer hurt his right knee during batting practice. We'll have updates in this thread as they become available.