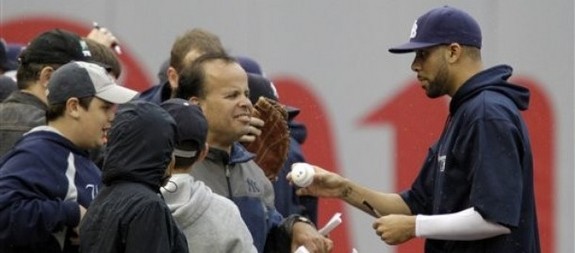 It's been another overcast and rainy day in New York, with on-and-off showers basically since the game ended last night. The forecast calls for thunderstorms all night, or rather some percent chance of thunderstorms all night. This morning it didn't look like there was anyway they'd get the game in, but now there appears to be just enough of a window. I'd be okay will calling for the tarp after five innings if the Yankees have the lead, wouldn't you? Here's the starting nine…
SS Derek Jeter
CF Curtis Granderson
3B Alex Rodriguez
2B Robinson Cano
1B Mark Teixeira
RF Nick Swisher
DH Raul Ibanez
C  Russell Martin
LF Dewayne Wise
RHP David Phelps
Tonight's game is scheduled to start a little after 7pm ET, but again it's unclear if that will actually happen. The game will air on YES locally and ESPN nationally, however. Enjoy.
Mark Teixeira Update: Apparently Tex has been dealing with a lingering cough, but Chad Jennings and Erik Boland report that he saw a specialist today and was diagnosed with inflamed airways. He doesn't have a virus and the inflammation should clear up on its own within two weeks. I didn't even know he was sick.
Eric Chavez Update: Eric Chavez told Jennings that he feels 100% after suffering whiplash diving for a ball last week. He hopes to be activated off the 7-day DL when eligible tomorrow, but he has to wait for MLB to review his concussion test first.