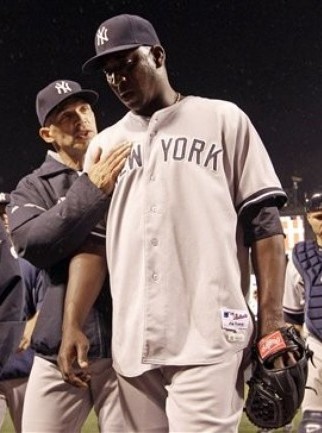 Rafael Soriano's tenure in New York hasn't exactly been a pleasant experience. First Brian Cashman stood at the introductory press conference and made sure everyone knew he didn't want to sign the guy, then Soriano struggled for the first few weeks of 2011 before hitting the DL with the latest elbow injury in a career full of them. Through his first 16 or so months in pinstripes, Soriano has pitched to a 3.71 ERA (3.67 FIP) in 53.1 innings as the fourth highest paid reliever in baseball.
In the span of two weeks, Soriano has gone from seventh inning guy to one of the most important players on the Yankees' roster. Mariano Rivera's season is over thanks to this torn right ACL and yesterday we learned that David Robertson will miss at least 15 days with a left oblique strain. The seventh inning guy is now the closer, the same role that landed him that much-criticized contract after a stellar 2010 season with the Rays.
"I put everything away, came back this year, and whatever inning I'll try to be there and try to be comfortable," said Soriano on Monday. "They give me the opportunity, and to me, I'll try to do the best I can."
The Yankees need Soriano to be the best he can be right now. With all due respect to Cory Wade, Boone Logan, and the team's other relievers, bridging the gap between starter and closer will be much more difficult with Mo and Robertson on shelf. Soriano has to be that rock in the ninth inning, nailing down wins with the leads he is given regardless of size. Frankly, he needs to elevate his performance a bit and actually have a 1-2-3 inning every once in a while (still zero of those in 2012). No one's asking for miracles, just a stress-free appearance every so often.
"You know, to me, I don't think nothing changed," said Soriano prior to last night's game. "Sometimes, something happens like that and you got to keep going, because we lost Mariano first and the bullpen tried to do whatever it had to do. Now, with two guys down, it's not going to be easy for us. We're trying to be together, the bullpen and the team, and win."
Robertson has reportedly been told that he'll be able to return after the minimum 15 days, but Soriano can't look at it like that. He has an opportunity to seize the closer's job for the rest of the season and into the playoffs, and he also has a chance to change the fans' perception of him. Soriano has the ability to be an elite reliever but hasn't performed up to that level in New York and I think there's a lot of disdain for him because of it, fair or not. The injuries give him a chance to step up and truly become an integral part of the roster, not just another overpaid under-performer.