Got a massive mailbag for you this week. I dunno, I just couldn't stop once I got going. Blame yesterday's day off. Remember to use the Submit A Tip box in the sidebar to send us stuff, mailbag questions or otherwise.

Nathan asks: What's up with A-Rod and the lack of power? Is he not fully healthy, losing bat speed, or just getting old?
This came in before Alex Rodriguez hit those two homers on Wednesday night, somewhat obviously. Anyway, I think it's all of the above. He's going to turn 37 next month and not many players maintain 30+ homerun power into their late-30s. Only 34 players age 36 or older hitt 30+ dingers in a single season (49 total instances), and the vast majority of them took place during the offense-crazy late-1990s/early-2000s. The power decline has been a gradual thing for Alex, look at his ISO through the years…

Source: FanGraphs — Alex Rodriguez
That looks an awful lot like normal age-related decline. That monster 2007 season (.331 ISO) came at age 31, right at the end of his prime years. On top of getting old, he also had the torn labrum in his hip. Players need their lower halves to generate power and Alex's was compromised a bit. Lots of people will blame the past PED usage and hey, they might be right, but I don't think there's anything that unusual about a player on the wrong side of 35 losing his power, even a historically great player like A-Rod.
Alex asks: The Yankees had been playoff bound for almost two decades and were buyers at the deadline during this run. If the injuries prove to be too many and the old dudes don't hit, the Yankees may find themselves out of the race. If they become sellers, who goes? What would the Yanks try to get?
I can't remember the last time the Yankees were a seller and they may have never been one in my lifetime for all I know. There has been the occasional dump trade — Gary Sheffield, Randy Johnson, A.J. Burnett, etc. — but that wasn't so much "selling" as it was getting rid of an unwanted player.
If the Yankees did manage to fall so far out of race that selling in advance of the 2014 payroll plan becomes a reality, the most obvious candidates to go would be the guys scheduled to become free agents soon, meaning Nick Swisher, Russell Martin, Curtis Granderson, and even Robinson Cano. There would be a market for Brett Gardner, Eduardo Nunez, Ivan Nova, and Phil Hughes, ditto just about everyone in the bullpen. Mark Teixeira and A-Rod are completely untradeable though chances are a taker would emerge for CC Sabathia despite his contract. The problem is his no-trade clause; Sabathia didn't move his family across the country just to get traded again.
If the Yankees do end up selling parts, the goal has to be to acquire as much talent as possible. Position is irrelevant, get the best players and sort it all out later. Outfield is one obvious area in need of long-term help, and of course they'll always need pitching. I just can't see this team falling so far out of the race that they sell at the deadline. I don't care how awful they've looked, anything involving established players for prospects would be stunning.

Reggie asks: If the Yankees offensive burn-out continues and becomes a major factor of missing the post-season, especially egregious due to the addition of a playoff spot, doesn't it appear to you that the fallout would be the signing of one Josh Hamilton?
It's possible and frankly, that would be the Yankee way. Got a hole to fix? Throw money at the biggest and best free agent and worry about the consequences later. That's kinda why the offense has been underperforming of late, really.
Anyway, I'm very much against the idea of signing Hamilton (or fellow free agent-to-be Andre Ethier) and have been for a while. He's already 31 and will turn 32 less than two months into his new contract, and he gets hurt every single year. After all he's put his body through, you can't expect his durability problems to go away as he approaches his mid-30s. You'd end up paying him 150+ games a year money for 120 like the Rangers have for the last few seasons. Don't get me wrong, Hamilton is an elite hitter and would look great with the short porch in right center, but you're not signing this Hamilton, you're signing the future version of the guy and whatever age and injury related decline he goes through. If the offense doesn't rebound because the core pieces are aging, the solution is to not sign another guy exactly like that.
Miller asks: Is it too crazy to wonder if Roy Halladay would be on the trade block this year? I mean, he"s only under contract until 2013 (I think) so he won't affect the 2014 plan, and he's AL East proven and all that stuff as well. While I think that in the end, a Halladay trade is very unlikely, what do you think of this idea?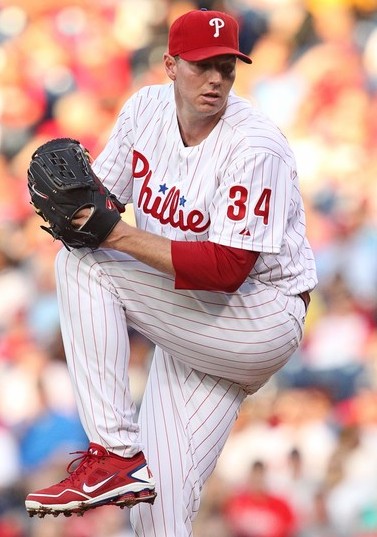 We've talked about Cole Hamels a whole lot because he's scheduled to become a free agent and all that, but you know what? It's not completely out of this world insane to think Halladay could end up on the block, allowing the Phillies to use the savings to re-sign the younger Hamels. GM Ruben Amaro Jr. already acknowledged that he'd consider selling if his club didn't right the ship and guess what? They're still in last place, exactly one game closer to first than when he made the comments.
Halladay, 35, has drawn quite a bit of attention this season for being merely great and not the best pitcher in the world. His strikeout rate has gone down (still 7.17 K/9 and 19.7 K/9), his walk (1.66 BB/9 and 4.6 BB%) and homer (0.64 HR/9) rates have gone up, and his ground ball numbers (46.7%) have taken a step back. His trademark cutter and two-seamer have lost a little zip as well. That said, Halladay has still been excellent, just not as otherworldly as he has been in the past. Given his track record, he's earned the benefit of the doubt.
Anyway, the Phillies owe their right-handed ace $20M this season and $20M next season before a $20M vesting option comes into play. The option vests with 225 IP in 2013 or 415 IP combined between 2012 and 2013. He basically still has to be a 200+ innings-a-year guy for that sucker to kick in. If Philadelphia is open to moving Doc — he has some kind of no-trade clause but we don't know the extent — I'd be all over that even with his slight decline this year. Brilliant pitcher, insanely durable, familiar with the AL East, relatively short-term contract. That's as good as it gets. I just don't see them trading him away.
Hank asks: Reading the A.J. Burnett update post got me thinking about the NL being the so-called "easier league" and how guys go back there when they suck too much in the AL East (A.J., Javy Vazquez in recent memory). Is the competition really that much worse over there? If so, in what way? The NL doesn't seem to have much trouble winning World Series titles lately so I'm confused.
Don't use the World Series (or the All-Star Game) as a barometer, that's just a random sample of (at most) seven games between just two teams at the end of the season and not an accurate representation of the two leagues as a whole. The AL went 24-18 in the first round of interleague play last week, a .571 winning percentage that translates to 93 wins over the course of 162 games. Last year it was a .520 winning percentage and the year before it was a .532 winning percentage. Since the start of 2010, the AL has won 289 of 546 interleague games, a .529 winning percentage that equates to an 86-win pace over a 162-game schedule.
It all comes down to the talent pool, which shifted dramatically when Albert Pujols and Prince Fielder jumped to the AL this winter. The best player to go from the AL to the NL this past offseason was … Gio Gonzalez? Mark Buehrle? The lack of a DH hurts too because NL clubs need more versatile bench players and basically run their offense in a different way. Every time through the lineup there is this automatic out and that changes the way teams are built and managed. Also, I think the best front offices are found in the AL and they all push each other to get better. The "smartest" front office in the NL belongs to who? The Cardinals? Cubs? It's a lot different when you're competing against Andrew Friedman and Jon Daniels.