Five questions and four answers this week, and I tried to keep it short but mostly failed. Remember to use the Submit A Tip box in the sidebar if you want to send us anything, mailbag questions or otherwise.

Shaun asks: Do you guys think David Robertson will automatically get the closer's job when he returns? I hope Rafael Soriano flourishes in the role he is most comfortable and we can have Robertson back to Houdini!
That's exactly what I hope happens. I want Soriano to pitch well regardless of inning, but I hope he really takes to the closer role and dominates so they can use Robertson a little more liberally in the seventh and eighth innings. The Yankees did bump Soriano back to the seventh inning following his DL stint last season because Robertson was dominant, so I hope history kinda sorta repeats itself.
Jay asks: What team has a need for 2nd base? I would think Eduardo Nunez could start on a lot of teams and contribute; just as the Yankees are thinking, putting him in one position could help his defense.
Middle infielders around baseball are just awful these days, so I'm sure a number of clubs would have interest in Nunez as an everyday guy despite his complete lack of defensive value. I know I'd rather take a chance on him than sign someone like the recently released Orlando Hudson.
Nunez has a 95 wRC+ in 450 career big league plate appearances, so he's fallen just short of league average offensive production. His career Triple-A performance is similar and that's basically the guy you're going to get. Nunez will hit for a average but not power, make a ton of contact, and steal a bunch of bases. That's what most middle infielders do, though at least he offers a chance at improvement at 25 years old. He's still two years why of his peak, in theory.
The problem with trading Nunez right now is that his value is way down. The Yankees had to send him down because his defense was unplayable and that dropped his stock. We know other clubs — specifically the Mariners and Braves — have had interest in him in the past and I'm sure they've love to buy low now. Unless we're talking about a multi-player package to acquire a star-caliber player, the Yankees are probably better off holding on to Nunez rather than take whatever uninteresting prospects clubs offer in a trade.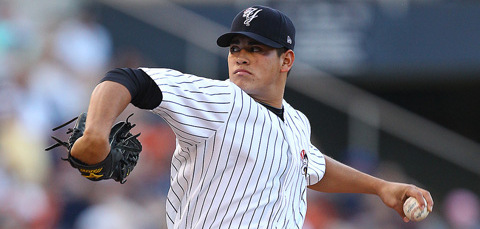 Tim asks: Chances or what do you think of the inconsistent Ivan Nova being sent down and Banuelos put in the NYY rotation in his place?
Jeff asks: Is it insane to think that Manny Banuelos can pitch his way into the big league rotation sometime this year?
Gonna lump these two together and will start with the Banuelos part. Yes, I think he could pitch his way into the rotation later this season. I thought there was a chance he would do it last year, but then he had to pull a Dellin Betances impression with the walk rate. Banuelos' performance has been very encouraging following his return from the lat injury — 15 strikeouts an zero walks in 14.2 IP — but he's not out of the woods yet. Three starts don't erase the last year's worth of command problems. He's got to continue to show improvement and if he keeps looking like the Banuelos of old (meaning 2008-2010), then I could definitely see him cracking the rotation in the second half.
As for Nova, I also think there's a chance he could be sent down at some point. Heck, they send him down for less last summer. Obviously this right foot and ankle injury complicates things a bit, but he had a very obvious problem leaving pitches up and thus getting hammered for extra-base hits before the injury. Nova leads the league extra-base hits allowed (32) and has allowed eleven (!) more than any other pitcher who's made no more than seven starts. Hopefully he shakes off the ankle problem and starts getting pitches down, but if he doesn't improve and we're in the middle of June or something, an assignment to Triple-A has to be a consideration. If Banuelos happens to keep pitching well and shows improved command, he'd be the obvious candidate to take Nova's spot.
Shai asks: Why are good lefty starters worth more than good righty starters? Aren't there more (good) righty hitters in baseball? I understand the value of a LOOGY but shouldn't righty starters be worth more?
It's just a supply and demand thing. There's roughly a 75-25 split between righties and lefties around the league these days (both starters and reliever), so there are just fewer quality left-handers to be had. Lefties are an even higher prior for the Yankees than other teams because of the short right field porch at Yankee Stadium. That's really all there is to it. There are fewer great lefties around than great righties, so the southpaws are more valuable. Same reason great shortstops are more valuable than great first baseman.