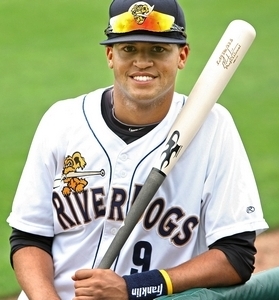 The minor league season is roughly six weeks old, about a quarter of the way through the 140-game schedule for the four full season leagues. Almost every high-upside position player prospect in the Yankees' system is playing for Low-A Charleston at the moment, and they're all raking. Tyler Austin has more homers (12) than any non-Curtis Granderson player in the organization, Gary Sanchez owns a .333/.380/.483 batting line as a 19-year-old, and Dante Bichette Jr. is in the middle of a hot streak (hitting .367 in his last eight games) after a slow start.
Then there's Mason Williams, the team's top position player prospect coming into the season in my opinion. As you can see in the sidebar, he's produced a .366 wOBA in 141 plate appearances this year, flashing both power (14 extra-base hits) and speed (12 steals). As impressive as those numbers are, his strikeout and walk rates are eye-popping. Williams has only struck out six times in those 141 plate appearances, a hilariously low 4.3 K%*. His eight walks result in a 5.7 BB%, meaning he's put the ball in play in nine out of ten plate appearances this year. That's just out of this world.
* Furthermore, two of those strikeouts came in consecutive plate appearances against Dylan Bundy a few weeks ago, arguably the best pitching prospect in the world right now. Against mere mortals, his strikeout rate is 2.9%. Ridiculous.
I bring this up because sometime in the near future, we're going to see some prospects get midseason promotions to the next level. Some promotions are more exciting than others but they all indicate some kind of progress. Sanchez will surely get bumped to High-A Tampa because he's repeating Low-A, just as an example.
Most players drafted out of high school will spend a full year at each level, at least in the lower minors when they're first cutting their teeth. Obviously there is the occasional Justin Upton-esque exception, but a full year at each level is a decent rule of thumb. Williams came into this season with 317 short season plate appearances and added those 141 plate appearances this year, which amount to 458 career plate appearances. About a hundred short of a full season's worth. That said, I think Mason's absurd strikeout and walk rates are an indication that he's ready for the next level.
Simply put, Williams is not having trouble getting the bat on the ball. Keith Law confirmed Mason's more aggressive approach (compared to last season) when he saw him last month, and those low strikeout and walk rates indicate that he's putting the ball in play early in the count. The lack of walks isn't the result of an inability to recognize balls and strikes, Williams is just putting the ball in play before he sees four balls. Based on the results, it's hard to complain. That's why I think a promotion to High-A is worthwhile this summer; he'll have a chance to face better pitching and continue developing his approach at the plate. It's tough to get comfortable in deep counts or work on a two-strike approach if you can put the ball in play at will.
Development is not usually something we can accurately measure with statistics, but we rely on them because as outsiders, that's all we have. We don't get to see how these kids react to breaking balls or use their changeup in a fastball counts on an everyday basis, so there's always going to be an element of the unknown for us. Frankly, it's a pretty significantly sized element of unknown. From here though, it looks like Williams could benefit from a promotion to High-A despite his relatively short stint with the River Dogs.