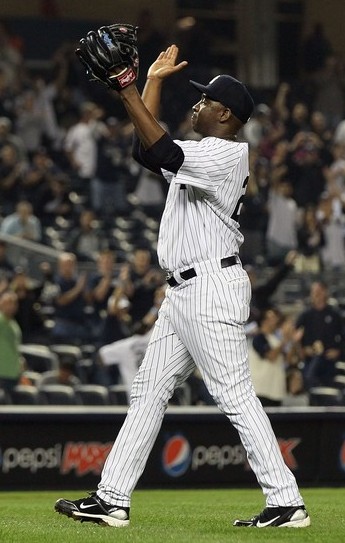 The dominant bullpen corps has been the Yankees' backbone all season, bailing out the sketchy starting rotation and inconsistent offense all April long. David Robertson struck out all three batters he faced last night and has yet to be charged with a run in 2012. Mariano Rivera as rebounded from his Opening Day blown save in spectacular fashion, and middle guys like Cory Wade, Boone Logan, and Clay Rapada have been far better than average. Then there's Rafael Soriano.
The fourth highest paid reliever in baseball this year, Soriano has been earning his money by throwing warm-up pitches in the bullpen lately, not by facing actual hitters in games. His seven innings pitched are tied with Rapada for the fewest on the staff, and Rapada is nothing more than the second lefty specialist. Soriano has appeared in just two of the team's last nine games, though he's warmed up in four others. He hasn't pitched since the last game of the Rangers' series.
Of course, Soriano's recent lack of work isn't his fault. He's been effective in his limited action this season, pitching to a 1.29 ERA and a 3.52 FIP. Joe Girardi is a master at pushing the right bullpen buttons, but his one real flaw is marrying relievers to specific innings. Simply put, there just haven't been many seventh inning setup situations lately, which is why Soriano has been left warming up in the bullpen and not pitching in games. It's not ideal given effective and valuable he can be.
Soriano's recent usage isn't actually a problem, this is more of an observation than anything. Girardi doesn't bury his relievers for long periods of time and you know that before long, we're going to run into a stretch of games where it feels like he's out there everyday. With Robertson having pitched in each of the last two days, there's a pretty good chance we'll see Soriano out there in the late innings tonight if the game is close. It's a nice luxury to have when a pitcher of this quality has been MIA for a week or two and you barely notice in terms of overall bullpen performance.