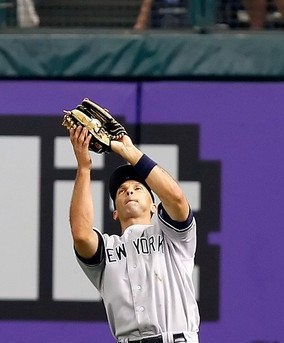 Brett Gardner's injury has hurt the Yankees in more ways than one. They miss his productive bat and ability to make pitchers work at the bottom of the lineup, they miss his speed on base paths, and most of all they miss his all-world defense. I give Raul Ibanez an A+ for his effort out there, but the man is a butcher and doesn't belong anywhere near a glove. Andruw Jones can hold his own in the outfield but is no longer the defender he was during his Atlanta days, and Dewayne Wise is a very good glove man but can't hit a lick.
With Gardner out anywhere from another two weeks to a full month with a strain muscle in his right (non-throwing) elbow, the Yankees are stuck with sub-optimal left field options for the time being. Ibanez has started each of the last four games and six of the last nine games in left mostly because the DH spot has been rotated around. Even with Eduardo Nunez in Triple-A, the duo of Jayson Nix and Eric Chavez give Joe Girardi a chance to rest Alex Rodriguez and Derek Jeter somewhat regularly early in the season. Better to rest them now than risk burning them out later, I suppose.
Anyway, the Yankees are stuck with an undesirable left field situation until Gardner comes back. The personnel on the roster is unlikely to change barring injury, but the team can still maximize what they get out of these guys by optimizing their usage. Let's take a quick look at some batted ball data (2010-present)…
| | FB% | LD% | GB% |
| --- | --- | --- | --- |
| Ivan Nova | 30.2% | 18.3% | 51.6% |
| CC Sabathia | 32.0% | 19.2% | 48.8% |
| Hiroki Kuroda | 33.0% | 19.8% | 47.2% |
| Andy Pettitte | 37.0% | 18.3% | 44.8% |
| Phil Hughes | 47.3% | 18.3% | 34.4% |
You folks are smart, so you probably already know what I'm getting at here: the Yankees should employ their top defensive outfield unit whenever the fly ball pitchers are on the mound. That means Wise on the field and Ibanez at DH whenever Hughes and Pettitte start. We could also add Nova to that mix if his ground ball rate (44.6% this year) doesn't return to previous levels (52.7% last year). Kuroda's ground ball rate (48.6% this year), matches his career average after dropping to 43.2% last year. Perhaps reuniting with former battery-mate Russell Martin helped, or maybe it's just an early-season fluke.
With Wise in the outfield two (potentially three) out of every five days, Girardi will be able to hide Ibanez's defense a bit while still being able to rotate that DH spot. It's not ideal; in a perfect world Ibanez never plays the field, but it's going to happen until Gardner is healthy, so the Yankees should stick him out there when their top ground-ballers are on the bump to minimize the damage. It also goes without saying that Wise should replace Ibanez in the field in the late innings of close games.
Nunez is in Triple-A now, but the Yankees can also employ a similar defensive platoon on the infield. Nix is not exactly a stellar glove man, but he can spell Jeter at shortstop whenever one of the fly ball guys is on the hill with the thinking that he'll have fewer tough plays to make. Sure enough, Nix's only start at short so far this year came with Hughes on the mound this past Saturday. Perhaps the defensive platoon is already in place, at least on the infield. The difference may only be two or three plays a game, but every little bit counts.