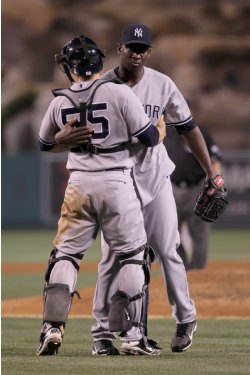 When Mariano Rivera tore his ACL earlier this month, we knew that life would change in a way we haven't experienced since 1996. Sure, Rivera had been hurt before, but never in season-ending fashion. That meant handing the closer role to someone not just for a particular stretch of the season, but the entire season, from May through hopefully October.
David Robertson, unsurprisingly, got the first crack. In 2011 he ascended the bullpen ranks, starting as a random reliever before graduating to the seventh inning in Rafael Soriano's absence, and then eventually to the eighth once the Yankees lost Joba Chamberlain. Even when Soriano returned, Robertson remained Rivera's primary setup man. He had earned it with his performance.
In his brief time as closer, Robertson picked up just one save, a sweat-inducing performance against the Tampa Bay Rays. The next night he blew a save, and before he could get another opportunity he landed on the DL with an oblique strain. There are worse things, of course, and Robertson appears to be on his way back; he'll throw off a mound for the first time on Saturday, three weeks after his DL stint began. Yet in his absence someone else has risen to the occasion.
When the Yankees lost Rivera, there was brief consideration of Rafael Soriano for the closer role. Prior to signing with the Yankees he had been Tampa Bay's closer in 2010, amassing 45 saves with an ERA well under 2.00. The year before he split closer duties in Atlanta with Mike Gonzalez. All in all, he entered the 2012 season with 90 saves, giving him the vaunted "closer experience" that people in the game seemingly value so highly. Given that experience, and his performance in Rivera's and Robertson's absences, he could hold onto the closer role from here on out.
No, Soriano does not make matters easy. He's yet to record a 1-2-3 inning this season. Yet that merely reminds me of another Yankees closer who kept us on the edges of our seats. In 1996 John Wetteland had a penchant for making things interesting, but he still got the job done. Setting up for him was strikeout artist Mariano Rivera. The Yankees could create a similar dynamic this year, using Robertson to reprise Rivera's role once he returns.
(Girardi could even go so far as to use Robertson for the Rivera Special, a two-inning setup job, given the emergence of Cory Wade and Boone Logan as late-inning options on days Robertson is not available.)
While it's difficult to assign causation, Soriano has flourished in his brief time as Yankees closer. In seven appearances he's struck out six and walked just one, allowing a single run — and that in his first save opportunity of the season. He's held opponents to a .231/.259/.346 line, which is all the more impressive when you remember that he's allowed at least one walk or hit in every outing. That is, he's bending ever so slightly, but he's not particularly close to breaking.
In many other years, losing Rivera would have crippled the Yankees. They perpetually lacked setup men, so inserting one of those ragtag relievers into the closer role would have likely been disastrous. These days they have a little more cushion — so much, in fact, that there's a legitimate debate about who should close games. Given the dynamic of the current bullpen, though, the Yankees would probably do best to leave Soriano in the closer role, where he's clearly comfortable, and using Robertson in tougher situations. Both have shown that they can handle those roles with aplomb.