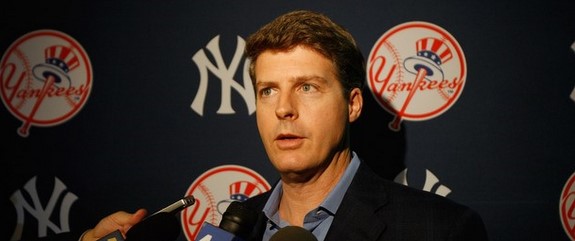 The baseball franchise valuation world shook when Magic Johnson, Stan Kasten & Co. purchased the Dodgers for $2 billion last month, and as expected, that sale has caught the Steinbrenners' attention. Bill Madden and Michael O'Keeffe have heard from several sources that ownership is "exploring the possibility" of selling the Yankees. "There has been chatter all around the banking and financial industries in the city for a couple of weeks now," said one source.
Unsurprisingly, team officials has shot down the report. "I can say to you there is absolutely, positively nothing to this. The Steinbrenners are not selling the team," said president Randy Levine. "I read the Daily News story. It is fiction. The Yankees are not for sale. I expect (the Yankees) to be in my family for many years to come," said Hal Steinbrenner.
Of course, there's no harm in exploring the possibility of a sale. It actually would be foolish of the Steinbrenner to not see what the team could fetch following the Dodgers' sale. If that franchise is worth $2 billion, what are the Yankees worth, $3 billion? Well, it's not that simple because the Yankees can't sell the land Yankee Stadium is built on like the Dodgers were able to sell Chavez Revine. As Richard Sandomir notes, the Steinbrenner family would assume a huge tax hit with the sale because of multi-generational trusts set up by George Steinbrenner years ago, which may be a deterrent. I suspect this will not be the last we hear of this.