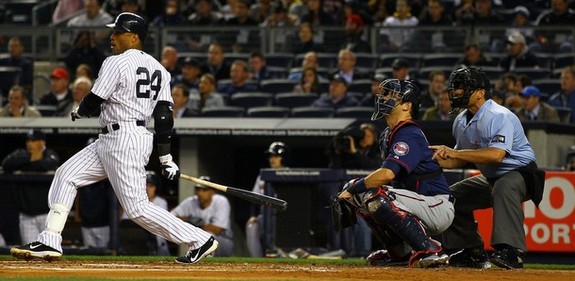 Given how dominant he's been the last two seasons, I think it's fair to say Robinson Cano has been the most disappointing player on the Yankees this season, at least on the offensive side of the ball. Expectations were relatively low for Mark Teixeira, Alex Rodriguez, and Russell Martin, but I think everyone assumed Cano would continue to be the hitter he's been over the last two years. Needless to say, a .255/.308/.367 batting line (.297 wOBA) after the first month of the season is a surprise.
Everyone is going to have a theory about why a player is slumping when they're slumping. Some resort of old diatribes like "he can't hit good pitching" or "he can't hit breaking balls" while others write it off as part of the typical ups and downs of the 162-game season. Occasionally we'll get an actual answer, whether it be a nagging injury we didn't know about or a mechanical issue or something else entirely. During last night's broadcast, Jack Curry he spoke to hitting coach Kevin Long about Cano, and he indicated that he's not getting his hands in the right place before swinging. Sounds reasonable, who am I to disagree?
Whether or not the hand issue is the root cause of the problem isn't for us to decide. Whatever's ailing Cano is causing him to hit a ton of ground balls, 52.9% to be exact. That is the 30th highest ground ball rate out of 184 qualified hitters and comes after a four-year stretch with a 46.2% ground ball rate and a two-year stretch with a 45.4% ground ball rate. Just to drive home the point, here's the day-to-day graph…
A 6-8% difference isn't a huge red flag, but it does help explain why Cano has hit for so little power — .112 ISO — this season. Robinson's not a ground ball/singles hitter, he's a guy that rips line drives all over the field for extra bases. We've been watching hi do it for years, but he we have yet to see that guy in 2012 and who knows why. Maybe he really can't hit good pitching or maybe it's just some stupid little mechanical issue that will be ironed out in time. Your guess is as good as mine.
The Yankees scored just three total runs during a three-game series at home against the Orioles, and part of the reason why is Cano's anemic bat. He's gone 30 plate appearances without an extra-base hit — since the Yu Darvish game — after averaging one extra-base hit for every 8.9 plate appearances during the last two seasons*. For whatever reason, he simply has not been hitting the ball with much authority in recent weeks and it's incredibly frustrating. We all want to assign blame when the Yankees lose, and right now some of that blame definitely falls on Robinson's shoulders.
* He also hasn't drawn a walk in 38 plate appearances after drawing eight in his first 70 plate appearances of the season, but that isn't terribly surprising. Cano's never been a fan of ball four.