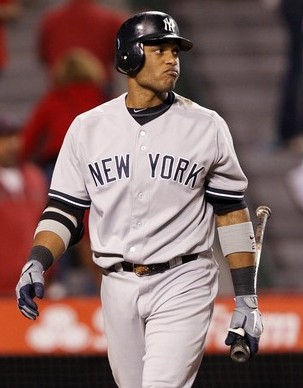 It's no secret that the Yankees have struggled with runners in scoring position this season and more specifically, this month. Blame bad luck, blame a bad approach, blame unclutch hitters, whatever. Assigning blame makes us feel better but doesn't really accomplish anything. All I know is that it continues to happen game after game and sometimes it doesn't even matter because they win anyway.
The struggles with men on second and/or third have become most evident with the bases loaded over the last two or three weeks. Last night the Yankees came up empty in two bases loaded situations, and I seem to remember a few bases loaded, zero out situations against the Reds and Royals a few weeks ago that resulted in a total of zero runs. As a team, the Yankees have no hits in their last 15 at-bats with the bases juiced and just one hit in their last 34 at-bats in those spots. The bases loaded futility has gotten so bad that all you can do is laugh at this point.
Now the Yankees were, by far, the best hitting team in the league with the bases loaded last season. They hit .337/.354/.604 with ten grand slams and a measly 15.8 K% in 178 plate appearances in those spots a year ago, but this season they're down to .151/.222/.302 with a 20.6 K%. That's not quite NL pitcher bad (.122/.155/.154 with a 36.4 K%), but it's a lot closer than it should be. They do have two grand slams though, so that's cool.
"We're going to have plenty more chances, so let's see if it irons itself out," said Joe Girardi after last night's game. "We haven't done very well this year, and we've been very good in the past. It's just kind of what we've went through this year, one of the struggles that we've had."
The season isn't that young anymore. I mean, it still is, the Yankees have 113 games left to play, but the sample sizes are not just little one or two week specks of information. We've got nearly two months of info and frankly if you date back to last year, the struggles with runners in scoring position is a continuing trend. Right now those struggles are showing up to the extreme with the bases loaded, and at some point someone will hit a bases-clearing double and it'll be a huge relief. That doesn't mean everything will be okay though. Hitting a ton of homers is the best thing an offense can do in baseball, but at some point the Yankees have to start cashing in these chance and score runs in other ways.