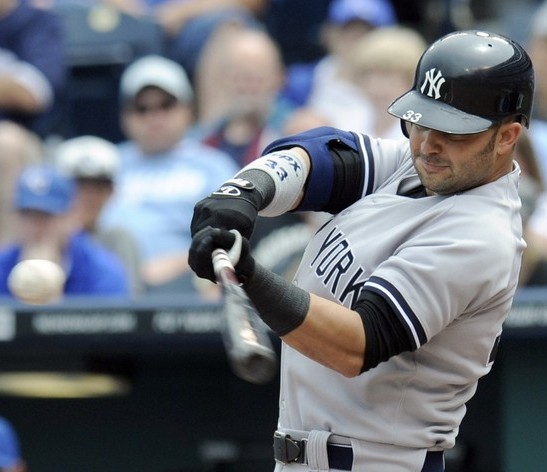 Aside from yesterday's blowout win, the Yankees slogged through a dreadful offensive slump last week that saw them score just 13 runs in six games. Six of those 13 runs came in Friday's game, so the other seven were spread across five games. The lineup came back to life on Sunday, scoring ten runs in the win over the Royals thanks in part to the return of Nick Swisher, who homered after sitting out most of the week with a low-grade left hamstring strain.
Obviously Swisher's presence alone did not account for the offensive outburst, but it didn't hurt. He'd hit six homers with a .408 wOBA in 93 plate appearances before the injury, joining Curtis Granderson as the club's second best bat behind the resurgent Derek Jeter in the early going. A player performing like that was going to be missed no matter what, but even moreso when seemingly everyone else in the lineup was battling through some kind of slump, either recent or extended. It was hard not to notice the big gaping hole in the offense last week.
Alex Rodriguez, Robinson Cano, and Mark Teixeira have shown flashes of breaking out recently, but nothing more. Swisher's return adds a little more thump to the offense and I think the Yankees should consider bumping him up in the lineup, at least temporarily. Batting order doesn't mean much over 162 games, but in an individual game — especially when the 3-4-5 hitters as a whole haven't been producing — it can make all the difference. Moving Swisher to, say, cleanup will put him in position to do more damage given how Jeter and Granderson are setting the table. Once the usual 3-4-5 guys get going, they can return to their regular lineup spots.
Just to be clear, I don't think simply rearranging the batting order will spark A-Rod's, Cano's, and Tex's bats. I don't buy into the idea that players perform better in specific lineup spots. I believe those three will improve their offensive performances (to various degrees) in the coming weeks, but right now they're not getting it done. Swisher has been and moving him a little closer to Jeter and Granderson could actually lead to some more sustained rallies in lieu of stranded runners and frustration. It's a crazy concept, I know.
The Yankees do a great job of remaining patient and avoiding knee-jerk moves these days, but at the same time they don't have to ignore little tweaks. It'll suck seeing Teixeira making $22M+ to bat sixth, but is that really worse than watching him make outs in big spots with men on base? I certainly don't think so. Winning the division is too important this year for the Yankees to go through another week or two like last. Moving Swisher up will create a little more continuity among the team's best hitters and hopefully leads to more runs on the scoreboard. If not, then no big deal. Real easy to go back to the way things were.