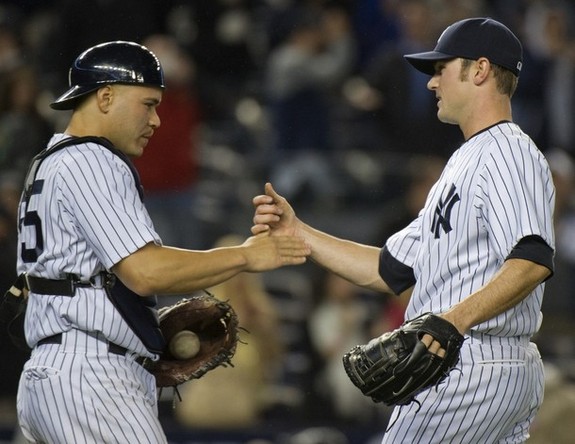 For the first time in 15 years, the Yankees have someone other than Mariano Rivera closing the door in the ninth inning. The Sandman tore his right ACL shagging fly balls before last Thursday's game, thrusting David Robertson into the closer's role on a full-time basis. As we saw last night, things are going to be very different at the end of the game going forward.
As he usually does, Robertson created a bit of a mess against the Rays on Tuesday before striking his way out of the jam to secure the win. It's what he does, make jams so he can pitch his way out of them. Unfortunately, that act is far less enjoyable in the ninth inning than at any other point of the game. If Robertson can't wiggle his way out of trouble and a run(s) scores, the Yankees now have three outs to respond. That's it. If he does the same in the eighth, they'll have six outs to recover. Not much, but better than three. The margin for error is tiny.
This probably sounds stupid given how things turned out, but I thought last night's game was a perfect example of why I believe that at the very least, Joe Girardi needs to be a little more flexible in the late innings. The Yankees were up two runs going into the eighth, but the top of the order was due up. That's a pretty good spot to use Robertson given the degree of difficulty, allowing Soriano to finish the game against inferior hitters in the ninth. If the bottom of the order was due up in the eighth, then by all means go to Soriano. In a perfect world, you'd have Robertson pitch to the toughest batters.
Obviously pulling that off is much easier said than done. Pitchers do like knowing their specific role/inning and bouncing them around could have some negative impact. Might be a lot, might be negligible. Who knows. Girardi can play coy all he wants, but we know that Robertson will be his man in the ninth inning going forward. He's certainly earned it and I'm not going to ding the manager for marrying relievers to specific innings when literally every other manager in baseball does it. This isn't just a Girardi thing, but it will be more noticeable with Rivera on the shelf.
"What I think is Mo probably would have thrown 12 pitches, broke a bat and we would have been gone 20 minutes ago," joked Robertson following last night's game, though there is some truth there. We've been spoiled by Mariano's stress (and walk) free ninth innings for a baseball lifetime, and we're going to be in for a serious culture shock over these next six months or so. I have full confidence in Robertson doing the job, but he is going to test our patience and raise our blood pressure along the way. This is a new era of Yankees baseball, and to be quite honest, it makes me nervous.