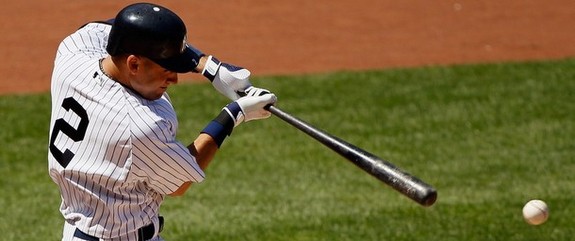 Yesterday I wrote about the Yankees and their increasingly impatient offense, showing that they haven't been working the count this season like we've seen in the past. It's unlikely that seeing fewer pitches per plate appearance is the root cause of the team's recent offensive woes, but I do think it's a contributing factor. Not getting in favorable counts and swinging at the pitches pitchers want you to swing at will drag down anyone's numbers.
Plate discipline isn't just swinging at strikes and laying off balls though, it's also about swinging at quality strikes. Not every strike is one you can drive. Here's a PitchFX breakdown of the team's plate discipline tendencies — swing and contact rates on pitches both in and out of the strike zone — over the last four seasons…

Notice the in-zone stats I've highlighted in yellow. Starting with 2009, the Yankees have swung at more pitches in the strike zone each season but have made less contact. We're talking about a three percentage point difference in each category over a four-year span so it's not a huge change, but it is a change for the worse. The Yankees have become more aggressive within the strike zone in recent years but have less to show for it. Simply put, their swing-and-miss rate within the zone is climbing.
As a whole, pitchers around the league have not changed their overall approach against the Yankees since 2009…

Other than the expected year-to-year fluctuations, the Yankees have seen the same percentage of fastballs and offspeed pitches over the last few years. They've also seen the exact same number of first pitch strikes, so it's not like they're falling behind in the count more often. Pitchers may be pitching them differently in different counts and in specific situations (men on base, etc.), but that's beyond my PitchFX capabilities at the moment. That would help explain the in-zone plate discipline issues, however.
The Yankees are anything but an offensive powerhouse these days and there are many reasons why. Missing more hittable pitches in the strike zone could be one of those reasons, though the little bit of data above hardly confirms that. The team is trending in the wrong direction when it comes to making contact on pitches in the strike zone, and some of those misses very likely came on pitches they should have hit hard somewhere.