Can I just take the easy way out and re-publish Wednesday night's recap? I mean, there's not much different between the two games. The Yankees lost (again) because they gave up booming homers to Jose Bautista and J.P. Arencibia (again), and also because they did absolutely nothing on offense (again). The 4-1 loss dropped New York to 20-18 with a measly +7 run differential on the season.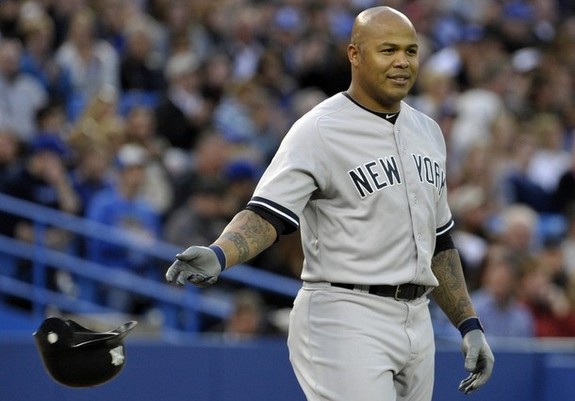 LMAOffense
Here's a fun fact: the Yankees have now been held to one run or less nine times this season. That's the same number of times as both the Mariners and Twins. All I know is that if you're tied with those two teams in any offensive category, it's bad. Real bad. The Yankees scored no more than two runs for the third straight game and ninth time in their last 17 games. They don't make starting pitching good enough to overcome that kind of ineptitude.
The Yankees plated their only run of Thursday's game in the very first inning, when Robinson Cano doubled home Curtis Granderson following his one-out walk. They left men on first and second in the third, a man on third in the fourth, men on first and second in the fifth, and a man on second in the sixth. The final ten men they sent to the plate made outs. The Yankees went a flawful (yes, flawful) 0-for-8 with runners in scoring position, including a big fat 0-for-3 by still hitting in the middle of the order Mark Teixeira. It's just horrible, the offense has been borderline noncompetitive in recent weeks.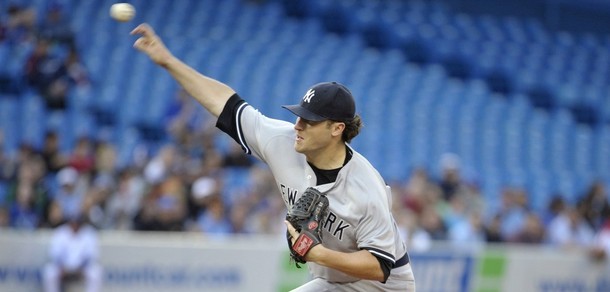 St. Philbert of Hughes
It wasn't the greatest performance in the history of pitching, but Phil Hughes certainly gave his team a chance to win and then some. He showed some fight by striking out both Bautista and Edwin Encarnacion to escape the first inning after the first two hitters reached base, and overall he struck out five in 5.1 IP. Ten of his eleven non-strikeout outs were fly balls, as expected.
Phil's only mistake was hanging cutter to Bautista, who clobbered it for a two-run homer in the third. It was just an awful pitch, but I can't give the guy grief for allowing a dinger to the best homerun hitter in baseball. Hughes did have some pitch efficiency issues — 107 pitches for 16 outs — but his defense made an error behind him that extended an inning. I gave up on Hughes as a starter following his disaster start in Texas and I'm glad he's making me look like an idiot.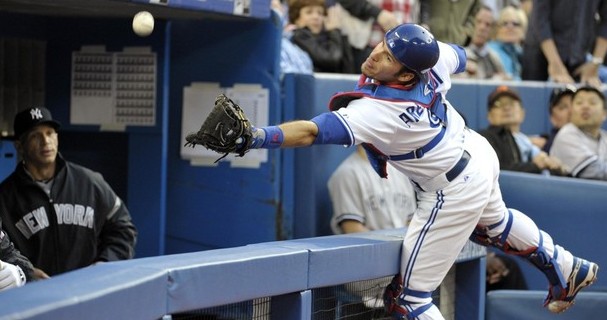 Leftovers
Cory Wade's ridiculously effective season hit a speed bump when he allowed a two-run homer to Arencibia that all but put the game away. He gets a pass because like I said, he's been ridiculously effective. Freddy Garcia needed just eight pitches to retire all three batters he faced, continued his nice little run of solid pitching out of the bullpen. Joe Girardi said before the game that if Ivan Nova is unable to make Saturday's start for whatever reason, Garcia would get the ball. I think that means David Phelps is going to take on a more important relief role in the absence of David Robertson and Mariano Rivera.
The Yankees only had five hits but three of them were doubles by Cano, Granderson, and Eric Chavez. Granderson and Derek Jeter chipped in singles while Granderson, Cano, Raul Ibanez, and Nick Swisher drew walks. They tallied eight hits in 18 offensive innings during this two-game series. Gross.
Just a quick side note: Hughes has allowed at least one homer in each of his eight starts this season, the longest such streak to start a season in Yankees history. So, uh, welcome to the record books.
The loss dropped the Yankees into fourth place in the AL East, so they're lucky it's only May 17th. There's a lot to fix at the moment. I don't think there's anything more you can say after another loss like this.
Box Score, WPA Graph & Standings
MLB.com has the box score and video highlights, FanGraphs some additional stats, and ESPN the updated standings.

Source: FanGraphs
Up Next
It's time for interleague play. The Yankees will welcome former Yankee Miguel Cairo and the rest of the Reds to the Bronx for a three-game series starting Friday night. It'll be Andy Pettitte and Balki Arroyo in the opener.