What's the old saying, every team is going to win 50 games and lose 50 games so it comes down to the other 62 games? This feels like one of those 50 losses. It just wasn't happenin' for the Yankees on Tuesday and they split their two-gamer with the Orioles.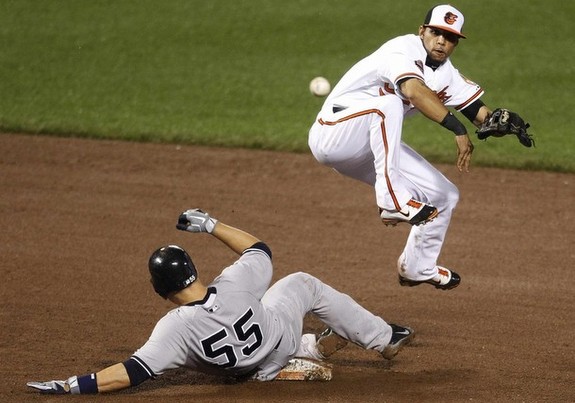 Double Trouble
The Yankees have a bit of a double play problem at the moment, grounding into three twin-killings in this game and eight (!) in their last three games. That's pretty frustrating. The first double play came with a man on first and one out in the third, the second with men on the corners and one out in the eighth, and the third with a man on first with one out in the ninth. All three ended the inning, and that's pretty much the worst way to make the second and third outs.
The double plays snuffed out rallies, but the Yankees also couldn't get Alex Rodriguez home after he led off the second inning with a single and immediately stole second base. Robinson Cano was nearly stranded after his leadoff double in the seventh, but Curtis Granderson hit a two-run opposite field homer to save us all from a horrible RISPFAIL death. Replays showed that a fan in Yankees' garb may have reached up and caught the ball before Xavier Avery could get a glove on it. I hope that's what happened, anyway. They had no answer for Wei-Yin Chen, who has now allowed two earned runs or less in six of his seven starts this season.
No Control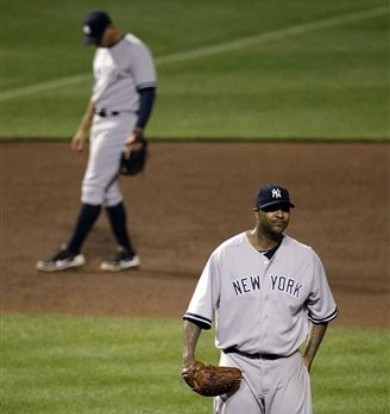 CC Sabathia has been on a pretty dominant run of late, but he labored against the Orioles on Tuesday and the result was four runs allowed in six innings. He walked a season-high four, including free passes to noted hackers Wilson Betemit and Bill Hall. Avery also drew a walk, and I'm pretty sure the walk to Adam Jones was unintentionally intentional after his solo homer earlier int he game. Sabathia allowed eight hits, seven to right-handed batters. The one exception was dinky little bunt single by Avery.
Every so often CC's going to be off his game and it seemed pretty obvious that his fastball was giving him trouble in this game. He went to the slider whenever he needed to make a pitch, which is exactly what he was doing when he struggled in his first two starts of the year. Hopefully it's just a blip on the radar and he'll get back to dominating next time out. It happens.
Leftovers
The Orioles tacked on a pair of insurance runs because of Yankees' mistakes. Sabathia induced what was supposed to be a routine inning-ending ground ball in the sixth, but Cano bobbled the ball and rushed the flip to second base for the force. Derek Jeter had to slow down to receive the ball and Robert Andino slid in safe to simultaneously extend the inning and allow a run to cross the plate. Chris Stewart's second passed ball — following a missed caught stealing call at second — allowed Jones to trot home in the eighth. Grumble grumble.
Jeter (single, walk), Cano (double), Mark Teixeira (single), Granderson (homer), Andruw Jones (walk), Jayson Nix (single), and pinch-hitter Russell Martin (walk) were all the offense on the night. Nick Swisher smoked the ball four times and only has a fielder's choice to show for it. His inning-ending line drive at Chen's face in the sixth was a pretty good indication things weren't going the Yankees' way.
Freddy Garcia threw two innings late, allowing just that one run on the botched caught stealing call/passed ball thing. He struck out three and I thought he looked pretty good actually. Better than he looked earlier in the season, anyway.
Box Score, WPA Graph & Box Score
MLB.com has the box score and video highlights, FanGraphs the advanced stats, and ESPN the updated standings.

Source: FanGraphs
Up Next
The Yankees are heading off to Toronto for another quick two-game series. Hiroki Kuroda will get things started against Kyle Drabek on Wednesday night.