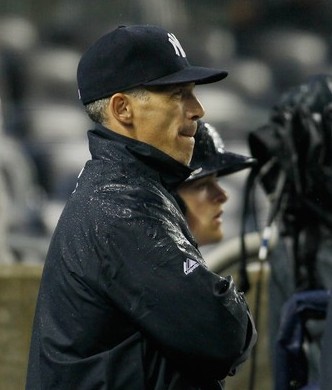 I can't remember the last time the Yankees played this poorly for an extended period of time like they are right now. It wasn't 2008, so you have to go back to the early-1990s and I don't want to think back that far. Yes we've been spoiled and yes, the Yankees have been terrible for the last three weeks or so. They've scored two or fewer runs in five of their last seven and 11 of their last 21 games. Impossible to win like that.
Back in the day, George Steinbrenner probably would have fired someone by now. Or at least I think he would have, that's what everyone else is telling me. I wasn't really old enough to appreciate his heyday. Anyway, the Yankees need some kind of shake-up right now, but I don't mean firing Joe Girardi or a coach or anything like that. More like … drop Tony Womack and Jaret Wright and recall Robinson Cano and Chien-Ming Wang. That type of thing. You know, inject a little youth into a team that seems to be sleepwalking for 27 outs a night.
Unfortunately, the Yankees can't make a move like that. The current roster is completely inflexible, with big contracts all of the place and nowhere to move these guys. I mean, I suppose they could bench Russell Martin and insert Frankie Cervelli into the lineup, but that's not exactly what I have in mind when I talk about a shake-up. Brandon Laird isn't doing to replace Alex Rodriguez, Colin Curtis isn't going to replace Nick Swisher, there's nothing to do. The Yankees made their bed with these guys and now they have to sleep in it.
Pretty much the only move the club can realistically make right now is dumping Freddy Garcia, but no one cares about the 12th man on the staff. Adding a new long reliever isn't exactly the kind the move that will light a fire under the team. That's not a shake-up, that's a pretty typical roster move. Other than getting Brett Gardner back at some point in the next two weeks (hopefully), there's no change coming and that's a problem. The guys already in the clubhouse are responsible for turning things around and that's not easy to do.
The Yankees fell into last place last night and are lucky no one is running away with the AL East. They're still only five back in the loss column with 120 games to play, many of them intra-division games. We've seen them go on huge second half runs before and after 42 games, we have to hope they have another one in them. Different doesn't always mean better, but a roster shake-up of some kind is something we'd probably see when things got this bad. There just aren't any moves that can be made, so instead we get Mark Teixeira batting seventh. That's the only shake-up they can make because the roster is so inflexible.