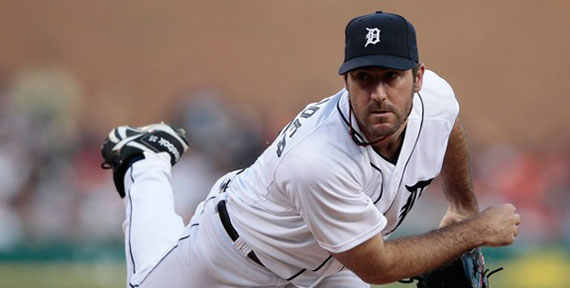 The Yankees are in Detroit tonight for the first of seven games they'll play at Comerica Park this season — three now, and another four in August. The Yankees are 22-25 all-time during the regular season at Comerica (and 1-3 in the postseason), and the only ballpark they've played worse baseball at since 2000, minimum 7 games, is Angel Stadium.
Detroit's had a 2012 somewhat similar to the Yankees in that both teams entered the year with high expectations that neither have yet lived up to. In particular, Detroit is coming off a 12-16 May (and you thought the Yankees' 14-14 month was lousy), and just dropped three of four at Boston before salvaging the finale last night. In adding Prince Fielder, Detroit was expected to boast one of the top offenses in the league; instead to date they've fielded an essentially league-average attack, at 102 wRC+ on the nose.
Old friend Austin Jackson has been Detroit's best hitter on the season, not to mention one of the hottest hitters in all of baseball, as he boasts a 169 wRC+, but he's also currently in the DL. Miguel Cabrera (137 wRC+) and Prince Fielder (140) are raking, although Cabrera hasn't been at quite the superhuman level he hit at last season. Of course, that doesn't make him any less fearsome.
Left-fielder Andy Dirks has been the biggest surprise on the team, with an outstanding .388 wOBA, while Alex Avila has struggled early to match his 2011 breakout season but has come on of late (112 wRC+). Rookie center-fielder Quinton Berry has raked in a very small sample in place of Jackson thus far, but he figures to come back to earth soon enough. The remainder of Jim Leyland's everyday lineup is rather underwhelming, with Jhonny Peralta (92 wRC+), Delmon Young (85), Brennan Boesch (71) and Ramon Santiago (45!) providing anywhere from below-average to replacement-level to horrendous production. However, Peralta picked things up considerably in May, with a 115 wRC+.
The Tiger bullpen has put up the worst ERA in the AL but the third-best FIP, due in part to the highest BABIP in the league (.316) by a good margin. Joaquin Benoit and Octavio Dotel have split set-up duties and are killing it, as both are striking out more than 13 men per nine and mostly keeping the ball in the yard. Closer Jose Valverde hasn't quite been his usual dominant self (4.43 ERA/4.55 FIP; 7.5 K/9 against 10.3 for his career, 0.0 fWAR), but every other current member of the bullpen has provided positive value.
The Pitching Match-Ups
Friday, June 1, 2012 at 7:05 p.m. LHP CC Sabathia vs. LHP Casey Crosby
ALERT. ALERT. ALERT. Not only is Casey Crosby a dreaded starter-they've-never-seen-before, but he's making his Major League debut against the Yankees tonight. And he's a southpaw! That is, literally, the trifecta of certain Yankee doom; the only thing worse would be if Crosby couldn't crack 90mph with his fastball; alas, he apparently has mid-90s heat. According to the first scouting report Google turned up, he also features a usable curveball and work-in-progress changeup.
Now in fairness, the Yankees of more recent vintage haven't struggled quite as poorly against guys-they've-never-seen-before as the 2010 team seemed to. While Yu Darvish and Crosby's Tiger teammate Drew Smyly own the 3rd- and 4th-best-pitched games by Game Score against the Yankees this season, the Yankees did pummel Tyson Ross and Will Smith.
The Bombers have also only faced three hurlers making their MLB debuts as starters since the beginning of 2011 — the Angels' Garrett Richards, who they tagged for 6 runs in 5 innings last August; Wei-Yin Chen, back in the fifth game of this season, who gave up 2 ER (4 total) in 5.2 IP; and the aforementioned Smith, who they got for five runs in 3.1 innings last week. Additionally, the latter two throw with their left hand, so obviously a rookie LHP starter isn't quite the death sentence I'm making it out to be. I doubt anyone would be surprised to see the Yankees either hang 7 runs on Crosby in 2 innings or Crosby shut the Yankees out over seven.
Saturday, June 2, 2012 at 7:15 p.m. RHP Hiroki Kuroda vs. RHP Rick Porcello
Doug Fister was originally slated to make this start before Detroit placed him on the DL; instead, Rick Porcello gets bumped from Friday to tonight. Porcello appears to have taken yet another step backwards this season, and one can't help but wonder, similar to the Yankees' situation with Phil Hughes, whether the Tigers might finally stop giving the youngster opportunities to prove himself. The extreme sinkerballer (51% of all pitches thrown) continues to strike no one out, and his peripherals outside of a low walk rate and nice GB% are rather middling across the board. That Porcello allows so many balls in play with one of the most porous infields in baseball behind him has been lost on no one, and it's entirely possible that Porcello could be a reliable mid-rotation starter on a team with a top-shelf defense. But in Detroit, he'll likely continue to struggle to be more than a #5.
Porcello also throws a 92mph four-seamer 19% of the time, an 84mph slider 16% of the time and 82mph changeup 11% of the time, none of which are currently above-average by pitch values per 100 thrown. Porcello's faced the Yankees four times in the regular season and has alternated terrible starts with strong ones. The Bombers of course last saw Porcello in October, and got to him for four runs over six innings en route to forcing a decisive Game 5 in the 2011 ALDS. Every time Porcello takes the hill against the Yankees I expect them to touch him up but then he'll go out and throw a gem, so it's anyone's guess as to what the Bombers do in this one.
HIROK! has one career start against the Tigers, and it came in 2010 at Los Angeles. I've been mostly disappointed by Kuroda's results thus far — we all expected the K rate to decline, but I didn't think it would get below 6.0/9, and like everyone else in the starting rotation he's been way too homer prone — although he's still managed to do a mostly reasonable job of giving the team a chance to win every five days, even if the process hasn't always been pretty.
Sunday, June 3, 2012 at 1:05 p.m. RHP Phil Hughes vs. RHP Justin Verlander
If Michael Kay is doing the Detroit series, you'll undoubtedly hear a lot about how Justin Verlander has a career 4.16 ERA against the Yankees over 62.2 regular season innings. Strangely, the only team that his hit him harder in as many or more innings is the Indians. For whatever reason, the Yankees generally seem to be able to hang 3-4 runs on Verlander despite the righty being arguably the most dominant pitcher in the game.
That said, Verlander is once again making a mockery of the American League, and currently leads all of baseball in fWAR while pitching to a 2.55 ERA/2.32 FIP. We all know Verlander is as good as it gets, and this will easily be the Yankees' toughest assignment of the weekend.
Verlander sets his prey up with a vicious 96mph fastball (thrown 61% of the time), stuns them with an 85.5mph change, and knocks 'em out with an 81mph curve (19%) that currently ranks as the 2nd-most valuable in baseball by wCU/C.
The Prediction
The Yankees are catching a fairly big break in missing Max Scherzer this time around, as Scherzer has given the Yankees fits since 2009 despite underwhelming performances against seemingly everyone else (though they did get to him for three runs over 4.2 innings back in late April).
The Yankees really have to take the Friday game behind Sabathia in what on paper should be the weekend's biggest mistmatch (although Verlander against Hughes isn't exactly a fair fight, either), though I'm reluctant to predict two of three this weekend, especially given the team's historical struggles at Comerica.