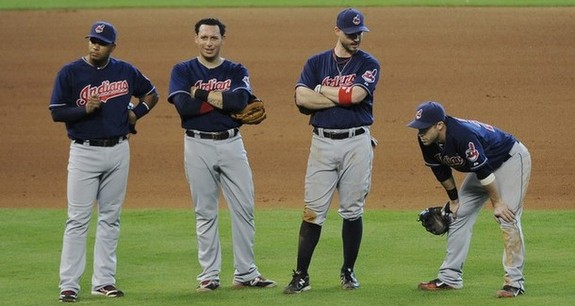 The Yankees and Indians have some playoff history, though the Tribe has only made the postseasons once in the last decade. That was in 2007, when they beat New York in the ALDS. You can also go back to Sandy Alomar Jr. beating Mariano Rivera in 1997. That was a long time ago though, and both of these clubs current sit at the top of their respective divisions.
What Have They Done Lately?
The Indians just lost two straight to the Astros but had won four in a row prior to that. At 37-34, they're tied with the White Sox atop the AL Central in the loss column. At the same time, Cleveland has the second worst run differential (-42) in the league. Are they a legitimate first place team … or one of the worst in the AL?
Offense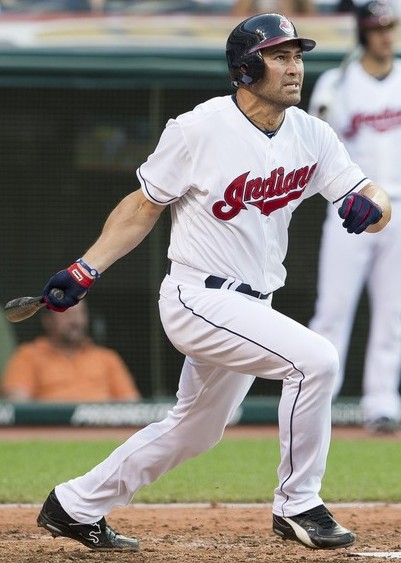 A middle of the road offense at 4.28 runs per game, the Indians generate a lot of their scoring with the free pass. Their 9.4% walk rate is one of the best in baseball, right there with the Yankees (9.3%). Cleveland's two best (healthy) hitters — Shin-Soo Choo (126 wRC+) and Asdrubal Cabrera (138 wRC+) — set the table atop the lineup as the one-two combination. Not-a-rookie second baseman Jason Kipnis (118 wRC+) has assumed three-hole responsibilities.
Switch-hitting backstop Carlos Santana (96 wRC+) usually bats cleanup, but lately backup infielder Jose Lopez (99 wRC+ vs. LHP) has been getting the call against southpaws. Michael Brantley (89 wRC+) was part of the CC Sabathia trade and bats fifth. The rest of the batting order rotates, with Johnny Damon (72 wRC+) and Casey Kotchman (78 wRC+) seeing regular at-bats. Remember when those two were in the mix for New York's DH job? Yikes. Former Yankee Shelley Duncan (92 wRC+ vs. LHP) will see time in the outfield against lefties. Third baseman Lonnie Chisenhall (98 wRC+), infielder Jack Hannahan (96 wRC+), backup catcher Lou Marson (95 wRC+), and backup outfielder Aaron Cunningham (29 wRC+) round out the roster.
The most notable thing about the Tribe's offense is that it is very, very lefty heavy. Santana and Cabrera are switch-hitters, but otherwise every other starter bats from the left side. Shelley, Lopez, and Cunningham are righties and will spot start, but on most days seven of their nine batters swing it left-handed exclusively. Expect to see quite a bit of Boone Logan and Clay Rapada these next two days, before Andy Pettitte starts on Wednesday.
Pitching Matchups
Monday: RHP Hiroki Kuroda vs. RHP Josh Tomlin
The 27-year-old Tomlin does nothing exceptionally well other than limit walks. His 1.14 BB
/9 and 3.2 BB% both led all qualified starters last season and while he hasn't been quite that good this year — 2.13 BB/9 and 5.5 BB% — the guy won't beat himself with free baserunners. Tomlin doesn't strike out a ton of batters (5.40 K/9 and 14.0 K%) or generate many ground balls (42.8%), so he'll let the Yankees put the ball in the air. That plays right into their offensive strength. An upper-80s four-seamer and a mid-80s cutter are his weapons of choice, though he'll mix in the occasional low-80s changeup and mid-70s slider. The Yankees have seen Tomlin a handful of times over the last two years.

Tuesday: RHP Phil Hughes vs. RHP Justin Masterson
We're all familiar with Masterson from his time with the Red Sox. Masterson had a breakout season with the Tribe last year, pitching to a 3.21 ERA with a 3.28 FIP in 216 innings across 33 starts (and one relief appearance). He has not been able to build on that success though, reverting to his pre-2011 self this year. That's still a really good pitcher though: 3.98 ERA (3.86 FIP), 7.12 K/9 (18.6 K%), 3.70 BB/9 (9.7 BB%), and a 55.9% ground ball rate. Those walks are the biggest difference between this season and last, a year ago it was just 2.71 BB/9 (7.2 BB%). Masterson is primarily a two-pitch pitcher, relying heavily on his low-90s sinker and low-80s slider. He'll also throw a mid-80s changeup once in a while. It's worth noting that he owns a massive platoon split, I'm talking a .260 wOBA from right-handed batters (.271 career) and .337 from lefties (.346 career). Might be a good game to completely sit Alex Rodriguez so Eric Chavez (third), Dewayne Wise (left), and Raul Ibanez (DH) can all start.
Wednesday: LHP Andy Pettitte vs. RHP Ubaldo Jimenez
There was a time last season when it looked like Ubaldo would wind up in pinstripes, but he instead headed to Cleveland and has pitched to a 4.81 ERA (4.54 FIP) in 27 starts since the trade. The 28-year-old leads the league with 48 walks (5.36 BB/9 and 13.3 BB%) and has a career-worst strikeout rate (6.34 K/9 and 15.7 K%). His 39.1% ground ball rate is way off his career mark (49.3%) as well. I was in favor of trading for Jimenez has summer, but boy was I wrong. The Yankees dodged a serious bullet. Ubaldo's fastball has been steadily declining and now sits in the low-90s, and he'll back it up with a mid-80s split-change, a low-80s slider, and an upper-70s curveball. Jimenez can still dominate on occasion (as the Cardinals found out earlier this month), but most outings are a chore for him.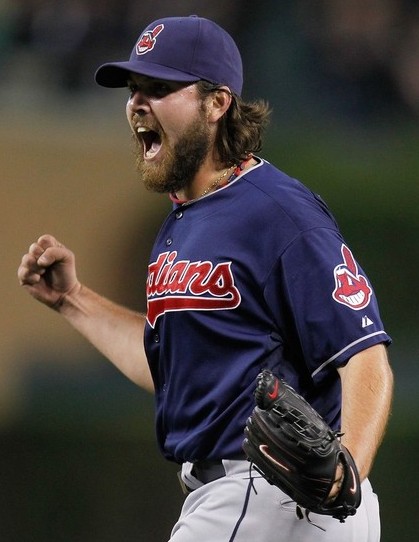 Bullpen
Manager Manny Acta has one of the least effective bullpens in baseball (4.62 ERA), though not because of closer Chris Perez (1.83 FIP) and setup man Vinnie Pestano (3.10 FIP). Perez has really improved after a so-so season in 2011, boosting his strikeout (8.89 K/9 and 24.4 K%) and ground ball (40.0%) rates while cutting back on the free passes (2.22 BB/9 and 6.1 BB%).
Right-hander Jeremy Accardo has a high ERA (4.34 ERA) but a low FIP (2.58) since being called up (18.2 IP), and he'll work the middle innings with submariner Joe Smith (3.49 FIP) and the recently acquired Esmil Rogers (7.11 ERA but 4.36 FIP). Left-handers Tony Sipp (4.73 FIP) and Nick Hagadone (4.83 FIP) will handle the matchup work. Smith, Hagadone, and Rogers each appeared in yesterday's loss, but overall the bullpen is very well rested because they had Thursday off and Masterson threw a complete game on Friday.
The Yankees, on the other hand, figure to have a short bullpen tonight since Logan, David Robertson, and Rafael Soriano have each appeared in the last two games. Check out our Bullpen Workload page for the exact details. For the latest and greatest on the Indians, we recommend The DiaTribe, Let's Go Tribe, and Wahoo's on First.