The Yankees didn't just extend their winning streak to five on Tuesday night, they did it with a dramatic come-from-behind win in the late innings. Other than the 15-9 game at Fenway Park, I'm having a hard time coming up with a better win this season.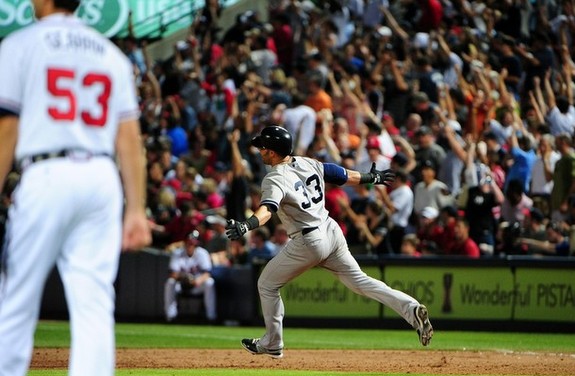 ClutchBall
More on this in a bit, but for the first seven innings the Yankees had absolutely no answer for Mike Minor. They were down four-zip heading into the eighth and it's not just that they were unable to put together rallies, they weren't even putting together quality at-bats or making hard contact. The young southpaw started the eighth with a pitch count in the 90s and left at exactly 100 after Derek Jeter sneaked a one-out single through the right side. It seemed like an innocent hit, another runner to be stranded at the later time.
That's when Jonny Venters came in to put gas on the fire. To appreciate the magnitude of this meltdown, you have to understand that Venters came into this season as one of most dominant relievers in baseball. He'd pitched to 1.89 ERA with 9.95 K/9 and a 70.5% ground ball rate (!!!) in 171 innings over the previous two seasons, allowing just three homers total. Just insane numbers. Venters faced four Yankees on Tuesday and all four managed to reach base. Curtis Granderson singled, Mark Teixeira walked, and then Alex Rodriguez worked the count full before unloading on a sinker that didn't sink for a game-tying grand slam.
It wasn't a true big-fly, it was more a line drive that zoomed right over the left field wall. A Yankees fan caught it with his hat, which was pretty neat. Robinson Cano followed that up with a single to knock Venters out of the game, and two pitches later the Bombers had a two-run lead when Nick Swisher well, bombed a Cory Gearrin fastball out over the right-center field wall for a two-run dinger. After putting seven total runners on base in 7+ innings against Minor, seven consecutive batters reached base as soon as he was out of the game — Andruw Jones was hit by a pitch immediately after Swisher's homer.
Shutdown
Like I said, Minor completely manhandled New York for the first 7+ innings. He came into this start as one of the two worst starting pitchers in baseball statistically, but he kept the right-handed batters off balance with a healthy diet of soft stuff away and generally stayed out of the middle of the plate. His performance was eerily similar to Doug Davis' when the Yankees visited the Cubbies last summer, when a left-hander with bad numbers frustratingly shut them right down. Here's that box score in case you've swept that one under the mental rug. After stranding men on first and second in the first, the Yankees put just three of the next 22 men they sent to the plate against Minor on base. The kid was on point.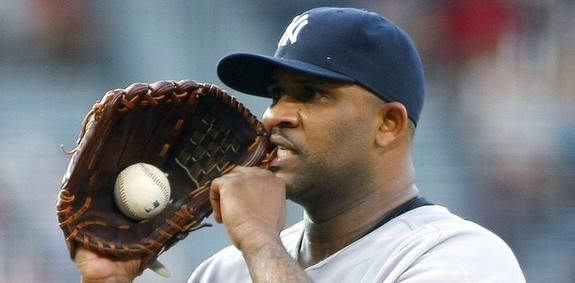 C(an't find) C(ommand)
CC Sabathia most certainly was not on point, at least not early on. He ran into the same command problems that have plagued him for most of the season, causing him to fall behind in the count to three of the first four men he faced. The bases were loaded with out in the first when Matt Diaz drove in three runs with a double to right, the first bases clearing double Sabathia has allowed to a right-handed batter as a Yankee. One out and five batters into the game, the ace had his team in a three-run hole.
Sabathia settled down a bit after that but still wasn't sharp. He managed to fire off five scoreless innings after that but put six men on-base along the way, then the Braves tacked on an insurance run thanks in part to some intentional walk/weak ground ball funny business in the seventh. Four runs and ten hits in seven innings definitely isn't a disaster start but the Yankees need CC to figure out this long-standing command issue and get back to being the guy they're used to running out there every five days. During this recent stretch of strong play, Sabathia has been the weak link in the rotation and that is just weird.
RA! PA! DA!
Big, huge ups go out to Clay Rapada. With a short bullpen, the lefty specialist hung in to retire three of the four men he faced in a scoreless eighth, including one of two right-handers. He was pitching for the fourth — fourth! — day in a row and fifth time in six days, so give that man some serious props. Rapada went above and beyond the second lefty specialist call of duty to help secure this win. Teams need unexpected boosts like this throughout the season to win the division.
Leftovers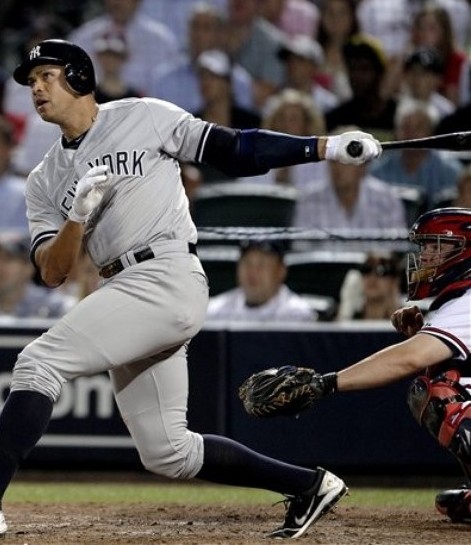 Fresh off Monday night's blister problem, Rafael Soriano threw a perfect ninth inning to nail down the win, his first true 1-2-3 inning of the season. He had come into a game in the middle of an inning to retire all three guys he faced a few weeks ago, but this was the first time this year he started and finished an inning without allowing a baserunner. He struck out a pair, including the powerful Brian McCann and Dan Uggla.
Sabathia became the first Yankees' hurler to allow four earned runs in a start since Ivan Nova allowed five in the series finale out in Anaheim. All three starters allowed five or more earned runs in that series but the rotation had pitched to a 1.76 ERA in the ten games since.
Jeter, Granderson, and Swisher all had two hits apiece while A-Rod, Cano, and Chris Stewart chipped in one each. Mark Teixeira drew three walks and now has 19 free passes against just 15 strikeouts in his last 31 games. That, as they say, is quite good. The RISPFAIL was limited to 1-for-5 this time around, with the one being A-Rod's grand slam.
Speaking of that, the grand slam was was the 23rd of Alex's career, tying him with Lou Gehrig for the most in baseball history. Coincidentally enough, Tuesday was also the anniversary of the Iron Horse's final game in pinstripes, though it was just an exhibition. Still neat though.
It's not often that one player makes two outs in an inning, but how many do it as a pinch-hitter? Russell Martin pinch-hit for Sabathia to lead off that six-run eighth, and he flew out to start the inning before striking out to end it. How does that get scored, is he a pinch-hitter for the first at-bat and the pitcher for the second? He can't be the pinch-hitter for both, right? Ah the quirks of baseball.
With the win, the Yankees have now won five in a row, eight of nine, ten of 12, and 15 of 19. The Mets wrecked the Rays so the Yankees have sole possession of first place in the AL East for the first time since April 21st, after that big 15-9 comeback in Fenway Park.
Box Score, WPA Graph & Standings
Now that, my friends, is a WPA graph. MLB.com has the box score and video highlights, FanGraphs the advanced stats, and ESPN the updated standings.

Source: FanGraphs
Up Next
The Yankees will try to complete the sweep on Wednesday night, hopefully sending us all into Thursday's scheduled day off on a high note. Hiroki Kuroda will give it a go against Tim Hudson, and both pitchers are coming off minor foot injuries — Kuroda took the comebacker off his foot last time out and Hudson received a cortisone shot for some soreness recently.