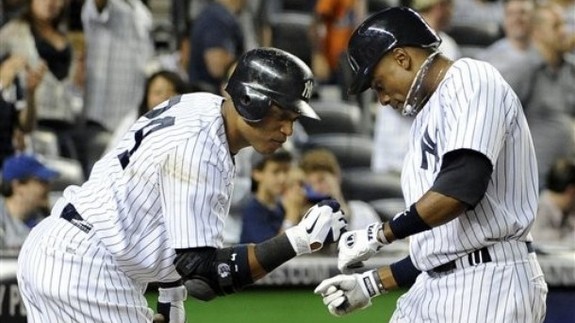 The 2014 payroll plan is looming, and while the short-term right field and catcher situations are front and center given the impending free agencies of Nick Swisher and Russell Martin, the long-term Robinson Cano and Curtis Granderson situations are a much more serious issue. The team's two best hitters each have no-brainer club options for 2013 that will be picked up before qualifying for free agency after next season, right when the team is looking to get under that $189M luxury tax threshold.
During an appearance on MLB Network Radio, Brian Cashman told Jim Bowden that although contract extension talks with the two sluggers have not taken place, though the team hopes to keep both players in pinstripes well into the future. Here's the quote…
Brian Cashman "we've had no discussion yet on a contract extension for Cano or Granderson but we want them both here long term"

— JIM BOWDEN (@JimBowdenESPNxm) June 18, 2012
Wanting to keep them both long-term and actually keeping both long-term are two entirely different things. I'm sure the Yankees wanted to add a young power pitcher and keep Jesus Montero this offseason, but sometimes you have to give to get.
I'm definitely in the "let Cano walk" camp, at least right now. I reserve the right to change my mind over the next 16 months. He's going to be 31 years old when he signs his new contract and most middle infielders — particularly second baseman who have to make the blind double play pivot — tend to decline quickly in their mid-to-early-30s. If the Yankees want to get serious about being smarter and more efficient, then not locking up players at big money through their decline years is the first step. Robinson didn't hire Scott Boras last year because he was looking to take a hometown discount, remember.
The development of the pitching staff figures to have the greatest impact on the Yankees' ability to keep both Cano and Granderson around long-term. If Michael Pineda comes back from shoulder surgery well, they'll have an above average and cheap rotation arm to pair with Ivan Nova. If he comes back a dud, they're going to have to change course and possibly dramatically. I've said this before, but getting under the luxury tax threshold in 2014 is going to require some creativity and a lot of tough decisions, particularly with these two left-handed mashers.