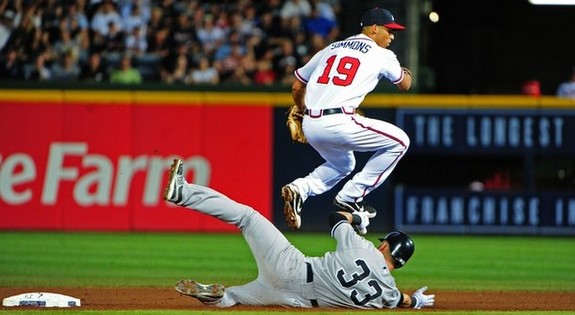 It's no secret that the Yankees have struggled with men in scoring position this year — .220/.324/.397 (90 wRC+) as a team following last night's 1-for-8 showing — bringing nightly frustration even though they continue to run off win after win thanks to some stellar pitching. Part of that futility with men on base is the team's propensity to ground into rally killing double plays, which they did on two occasions last night. I swear it felt like six or seven.
Over the last four games the offense has managed to ground into seven twin-killings, at least two in every game. It took them 13 games to ground into their previous seven nine double plays, so right now it's happening at an absurd rate. After grounding into 18 double plays in 22 April games, the Yankees have grounded into 36 double plays in the 37 games since. As a team, the Bombers have hit into a double play in 12% of their double play opportunities according to Baseball Reference, tied for the sixth highest rate in baseball.
Double play futility like that isn't a one or two-man thing, it's a team wide epidemic. Derek Jeter leads the way with eleven twin-killings, the second most in baseball (min. 150 PA) — Joe Mauer has 14 — and one more than he had all of last season. Of course 2011 was the anomaly; the Cap'n is always good for 18+ double plays a season. The trio of Robinson Cano, Mark Teixeira, and Alex Rodriguez has hit into 21 total double plays, exactly seven each. All three are among the top 25 offenders in baseball (min. 150 PA). The only regulars that have hit into double plays at a rate lower than the league average (2.2% of plate appearances) are Curtis Granderson (1.5%) and Nick Swisher (1.8%).
The funny part in all of this is the Yankees are in the exact same spot as last year, when they also hit into a double play in 12% of their opportunities. It's just the timing that makes it feel so awful right now. They're struggling to bring runners home and every double play feels like a punch to the stomach. The fact that they've picked up the GIDP pace in May and June after a slow April hasn't helped either. There's this feeling of anxiety every time the Yankees get men on base given their season-long futility, but the double plays really aren't the core problem. They all seem to be pressing and this recent penchant for the double play is just the result, a symptom of the bigger problem.