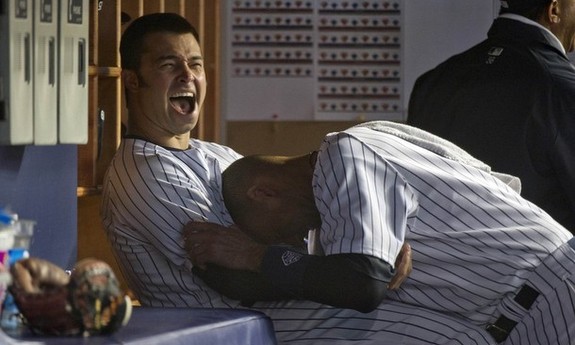 Baseball math is weird, and I don't just mean the advanced stats. Batting average is weird because sacrifice flies don't count as an at-bat. ERA is weird because a homerun can be an unearned run. The standings are weird because right now, the Yankees are half-a-game back of the Rays (and Orioles) for sole possession of first place in the AL East. There's no such thing as a half-game, you either win or lose. With a win tonight (and some help from the Red Sox), the Yanks will be sole possession of first place in the AL East for the first time since April 21st, after the big 15-9 comeback win in Fenway Park. It's been a while. Here's the batting order…
SS Derek Jeter
CF Curtis Granderson
DH Alex Rodriguez
2B Robinson Cano
1B Mark Teixeira
LF Raul Ibanez
RF Nick Swisher
3B Eric Chavez
C  Russell Martin
RHP Ivan Nova
Tonight's game starts a little after 7pm ET and can be seen on YES locally and ESPN2 nationally. Enjoy.
Brett Gardner Update: Gardner (elbow) was sore after hitting the cage yesterday and took today off. It's nothing serious and he will play in a minor league rehab game tomorrow, likely with High-A Tampa.
David Robertson Update: Robertson (oblique) will throw batting practice tomorrow and if that goes well, he'll appear in his first minor league rehab game on Sunday. Hooray for that.