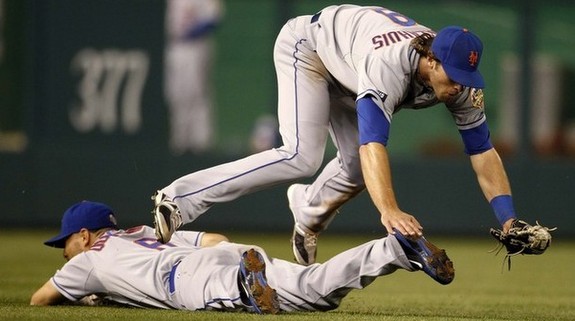 I'm not sure how often this has happened or even if it has ever happened before, but the Yankees open the 2012 edition of the Subway Series with fewer wins than the Mets. They come into tonight's game with a 31-25 record while the Amazin's are 32-26. Of course, winning percentage (.554 vs. .552) and run differential (+29 vs. -8) still favor the Bombers. Johan Santana is coming off his 134-pitch no-hitter and has had a full week to recuperate, plus he's thrown back-to-back complete game shutouts. Let's hope his scoreless streak ends soon. Here's the lineup…
SS Derek Jeter
CF Curtis Granderson
1B Mark Teixeira
3B Alex Rodriguez
2B Robinson Cano
RF Nick Swisher
DH Andruw Jones
LF Raul Ibanez — against the lefty? whyyy
C  Russell Martin
RHP Hiroki Kuroda
Tonight's game starts a little after 7pm ET and can be seen on both My9 and SNY locally as well as MLB Network nationally. Enjoy.
Joba Chamberlain Update: Joba (elbow, ankle) threw 25 pitches off a full mound in the batting cage down in Tampa this afternoon. He's also resumed running full sprints in the outfield. "Is that even a question?" he replied when asked if he'll pitch this season. Just remarkable.
David Aardsma Update: Aardsma (elbow) threw 40 pitches in his third live batting practice session today and he could throw a simulated game as soon as early next week. Reinforcements … they are coming.