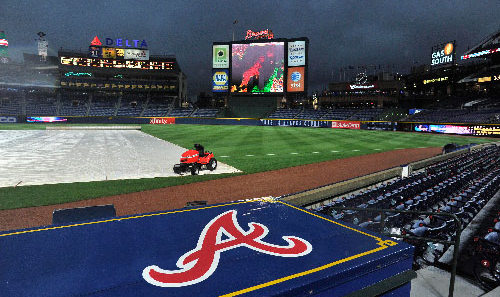 The Yankees have already played six interleague games this season, but all six have come at home in Yankee Stadium. Now they're going out on the road to Atlanta, which means no designated hitter. That means pitchers hitting making outs and sacrifice bunting and double switches and all sorts of horrible stuff. I hate it. Here's the lineup…
SS Derek Jeter
CF Curtis Granderson
3B Alex Rodriguez
2B Robinson Cano
1B Mark Teixeira
LF Raul Ibanez
RF Nick Swisher
C Russell Martin
RHP Ivan Nova — 0-for-4 with four strikeouts and one sac bunt in his career
Tonight's game is scheduled to start a little after 7pm ET and thankfully the forecast has cleared up. Things weren't looking too hot a few hours ago. The game will be broadcast on YES. Enjoy.
Andy Pettitte & Hiroki Kuroda Updates: Pettitte (hand) and Kuroda (foot) are fine and on track to make their next starts. The former barely has a bruise on his hand after barehanding a one-hopper yesterday and the latter came through yesterday's bullpen session fine after taking a comebacker to the foot.
Brett Gardner Update: Gardner (elbow) visited Dr. Andrews today and will visit Dr. Kremcheck on Thursday. The Yankees haven't received the results from Andrews yet, though I wouldn't expect them to announce anything until he gets the second opinion later this week.