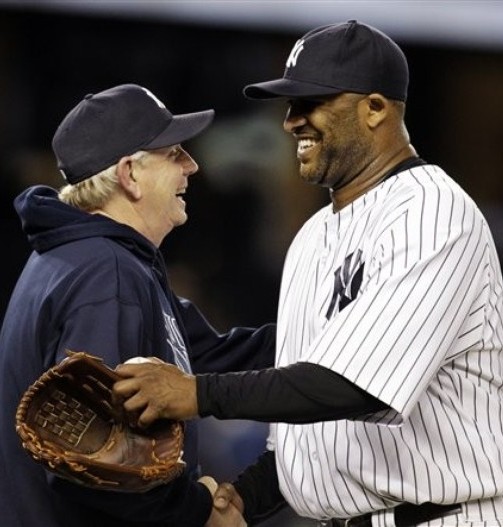 I didn't see last night's game, but based on what I've seen and read this morning, it sounds like CC Sabathia was on point. The box score — 9 IP, 7 H, 2 R, 2 ER, 1 BB, 10 K, 13 GB, 4 FB — certainly backs that up as well. The Yankees' tenth win in a row will obviously grab the headlines, but Sabathia's best start of the season (by Game Score) is the more important development.
"Through his, what we would call struggles — most guys would probably be happy with what he's doing — he hasn't had a consistent sinker, and I thought tonight it's been as consistent as its been," said Joe Girardi after the game. "I could sense he was a little bit frustrated. It's a great start for him."
Sabathia's season-long problem had been his fastball command, which he seemed to fight start after start. He's been behind in the count to 126 of the 427 batters he's faced this season, a 29.5% rate that is a bit worse than last year's (28.7%). The AL average is 34.9%, keep in mind. Sabathia's thrown a first pitch strike 62.1% of the time in 2012, 16th best out of 49 qualified AL starters. The long counts have hurt him a bit. He's been off just a touch, nothing major.
Prior to last night's game, pitching coach Larry Rothschild indicated that CC had picked up a mechanical flaw during a video session and would correct it going forward. "He can see it, what he needs to do," said Rothschild. "It's not like he hasn't done it. It just has to be consistent." Sabathia simply described the problem as "(just) not getting through my front side and finishing pitches," whatever that means in PitcherSpeak.
The Yankees have won ten straight and 20 of 24 largely on the strength of their pitching staff, which has allowed just 2.79 runs per game during the stretch. Sabathia hasn't been pitching terribly — 3.55 ERA with a 3.21 FIP in 101.1 IP this year — he just hasn't been especially sharp. He had still been pitching deep into games — 7+ innings in 11 of his last 12 starts — but wasn't overly dominating. The rest of the staff really picked things up and if last night' outing was any indication, Sabathia is about to do the same as well.