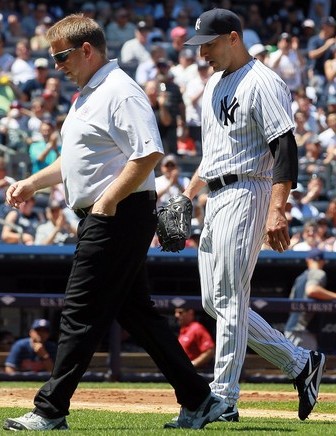 In the span of about five hours yesterday, the Yankees lost their two best starting pitchers to injury. First CC Sabathia was placed on the DL with a left adductor strain, then Andy Pettitte was struck by a batted ball and suffered a fractured left ankle. Brian Cashman said Sabathia could have pitched through his injury if this was the stretch drive or postseason, but they decided to play it safe. Obviously they didn't have the same choice with Pettitte.
"CC is due back right after the (All-Star break)," said Cashman after yesterday's game. "Andy, you're talking about a minimum of six weeks of healing, and as a starter you have to get him going again, so I'll throw two months in there in Andy's case. We'll just have to figure it out and see what happens. I would prefer not to go outside. Obviously if we do go outside, we've done that before. This is part of the process. You have to have alternatives. This gives opportunities for people to step up. Just like some guys in the bullpen have allowed us to step up and withstand some injuries — that's what Boone Logan, Clay Rapada, and [Cody Eppley] have done — we're going to have to ask for some other guys to do that for the rotation, as well. Let's play it out and see where it takes us."
The plan right now calls for Adam Warren to start in Sabathia's place on Friday — he started for Triple-A Empire State on Sunday and lines up perfectly for tomorrow — and for Freddy Garcia to take Pettitte's place on Monday. Ryota Igarashi is coming up from Triple-A to take Garcia's spot in the bullpen, leaving the team without a true long reliever for the time being. In the short-term, the rotation shakes out like this…
Thursday, 6/28 vs. White Sox: Ivan Nova
Friday, 6/29 vs. White Sox: Warren
Saturday, 6/30 vs. White Sox: Hiroki Kuroda
Sunday, 7/1 vs. White Sox: Phil Hughes
Monday, 7/2 @ Rays: Garcia
Tuesday, 7/3 @ Rays: Nova
Wednesday, 7/4 @ Rays: Warren
Thursday, 7/5: scheduled day off
Friday, 7/6 @ Red Sox: Kuroda
Saturday, 7/7 @ Red Sox (doubleheader): Hughes and Garcia*
Sunday, 7/8 @ Red Sox: Nova
* Garcia will be on regular rest for the July 7th doubleheader thanks to that scheduled day off.
That takes the Yankees right to the All-Star break, after which Sabathia is scheduled to return. Assuming all goes well with CC, he'll take either Garcia's or Warren's spot depending on how each guy performs in their two-start audition. If both guys are performing poorly, the Yankees will also have the option of bringing David Phelps back, who will be five starts into his minor league stint by then and presumably able to throw 95+ pitches. There's always D.J. Mitchell as well, but he could wind up taking Igarashi's spot sooner rather than later if the braintrust feels a long man is needed. Given Garcia's short leash due to his time in the pen and the general unpredictability associated with a young guy like Warren, having a long man would probably be a pretty good idea.
The Yankees don't rush into panic moves, at least not under Cashman in recent years. They have enough arms to get them to the All-Star break, then they can re-evaluate things once Sabathia returns. If neither Garcia, Warren, Phelps, or Mitchell distinguishes themselves in the rotation, they'll still have plenty of time to explore the trade market. They could go big (Cole Hamels, Matt Garza or Zack Greinke), go medium (Ryan Dempster or Wandy Dempster), or go small (Jeremy Guthrie or Francisco Liriano). I suppose it depends on Pettitte's rehab and how Hughes is holding up because frankly, we have reason to doubt his ability to remain effective over the course of a full season.
The Bombers have the makings of a really strong rotation on the DL with Sabathia and Pettitte joining Michael Pineda, so their big league staff has been compromised. The starters have been carrying the team for the last six weeks or so and now the offense is going to have to return the favor a bit, simply because there is no reasonable way to expect anyone to replace the two guys the Yankees lost yesterday. The good news is that they're in a better position to absorb these losses than at any point in the last like, ten years really. For a while there were no internal options — hence Aaron Small and Shawn Chacon and Sidney Ponson– now there's several. The Yankees will cycle through them and tread water for a few weeks, at least until Sabathia gets healthy and maybe until the trade deadline.
Aside: Boy, did Manny Banuelos pick a good time to get hurt or what? Same with Dellin Betances. He's supposed to be getting called up in this situation, not demoted down to Double-A. What a let down.