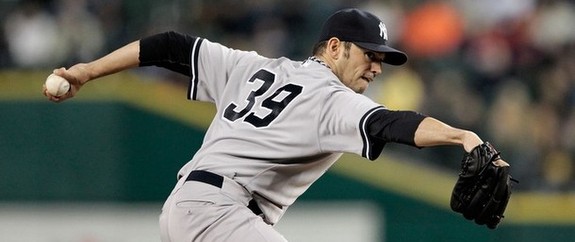 The Yankees are expected to get David Robertson back for Friday's series-opener in Washington, making tonight the last time Joe Girardi will have to use his mix-and-match bullpen tactics in the late innings. The one thing Girardi does better than anything else is manage his bullpen and put his relievers in a position to succeed, and year after year they continue to perform. Clay Rapada had no business throwing a scoreless eighth inning against one of the best offenses in baseball with a two-run lead while appearing in his fourth consecutive game last night, yet he did it anyway.
Rafael Soriano has stepped up and performed well as the closer while Robertson and Mariano Rivera were on the shelf, and while that is certainly appreciated, I think it's the four-man setup crew that deserves the most applause. Boone Logan and Cory Wade started the season as sixth inning matchup guys and became a powerhouse setup duo, striking out 28 of 82 batters (34.1%) while walking just three unintentionally (none by Logan) during Robertson's absence. Wade did allow back-breaking homers to Mark Trumbo (walk-off) and Miguel Cabrera (game-tying) during this stretch, but otherwise these two shut things down in the late-innings of close games.
Rapada and Eppley have been true specialists, almost never facing batters of the opposite hand. Seven out of every ten batters Rapada faced while Robertson was down were lefties, and he held them to two hits and four walks in 25 plate appearances. The free passes are a bit of an eyesore, though two of the four came in his first two appearances after Robertson's injury, plus I don't consider walking Nick Johnson to be a cardinal sin. Johnson tends to do that. Eppley has generated plenty of ground balls against right-handers in his matchup role, getting 11 grounders out of the 19 righties who put the ball in play off him.
Of course, one of the primary reasons this makeshift setup crew has pitched so well during Robertson's absence has been the starters, who have consistently pitched deep into the game and are keeping the relievers from being overworked. In the 28 games without Robertson, the starter has gone at least six innings 22 times — including 18 times in the last 19 games — and at least seven innings 16 times. The Yankees haven't had a starter complete fewer than five innings since David Phelps was making spot starts between Freddy Garcia and Andy Pettitte. You can't say enough about how much strong starting pitching helps the bullpen.
Assuming nothing unfortunate happens between now and Friday, the Yankees are going to turn a very good bullpen back into a great one thanks to Robertson's return. He'll help lighten the load on Wade and Logan specifically, but also Soriano as well. The starters are on a collective roll and are pitching deep into the game, which has helped soften the blow while Robertson has been on the mend. Getting him back this weekend won't solve the RISPFAIL, but it's going to be a huge addition to a pitching staff that has stepped up and carried the team during this three-week stretch of winning.