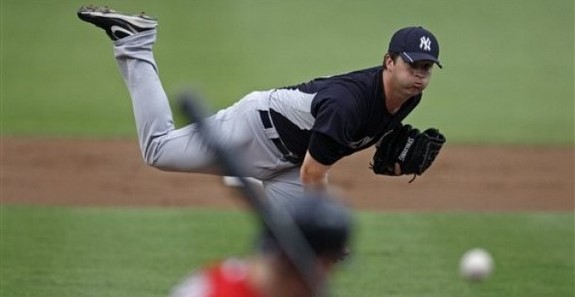 I still feel like the season has just started, but we're already fewer than seven weeks away from the non-waiver trade deadline. We've already taken a very brief look at what the Yankees could be in the market for prior to July 31st, though the shopping list has changed somewhat because the starting rotation has sorted itself out and David Robertson is one day from returning. Brett Gardner's elbow injury continues to linger though.
Anyway, rather than talking about needs, I want to spend some time talking about what the Yankees have to offer in trades. Specifically, I want to discuss three young right-handed pitchers: Adam Warren, Brett Marshall, and Mikey O'Brien. All three are having solid years and are pitching at the Double-A level or above, which is when you can really start to get serious about thinking a guy may be able to help your big league roster at some point relatively soon. More importantly, all three guys share one thing in common that is beyond their control: they're all eligible for the Rule 5 Draft this coming offseason.
The renewed emphasis on the farm system in the mid-aughts resulted in a lot of players being protected or left exposed to the Rule 5 Draft in recent years. The Yankees famously lost Ivan Nova to the Padres for about three weeks in 2008, and over the years we've seen guys like George Kontos and Lance Pendleton get selected in the Rule 5 Draft before being returned. Zack Kroenke was selected and returned in 2008 before being retained by the Diamondbacks in 2009.
At the same time, the Yankees have protected hordes of players from the Rule 5 Draft by adding them to the 40-man roster. Right now they're carrying Brandon Laird, D.J. Mitchell, Austin Romine, Corban Joseph, and Zoilo Almonte on the 40-man for that very reason. In the past it's been guys like Ryan Pope and Reegie Corona, Anthony Claggett and Kevin Russo, Romulo Sanchez and Chris Garcia. Some saw time in the big leagues after being added to the 40-man, some didn't. None of them had any kind of impact and were all eventually cut off the roster.
Now obviously protecting a player and possibly getting some mileage out of him is preferable to losing him for $50k in the Rule 5 Draft, but it's not an either/or situation. The Yankees could also use some of those borderline players in trades before they become Rule 5 eligible to clear up the 40-man roster crunch before it even happens. The Red Sox did this to a certain extent last summer when they acquired Erik Bedard in exchange for four miscellaneous prospects, two of whom — Stephen Fife and Chih-Hsien Chiang — were Rule 5 Draft eligible after the season.
That's kinda where O'Brien, Marshall, and to a much lesser extent Warren fit in. They're right on that protect/expose bubble and the question becomes: are they more valuable on the 40-man roster in the coming years or as trade bait? How necessary are these three with similar pitchers like David Phelps and Mitchell already on the 40-man? The answer could very easily be yes, there's always going to be a need for pitching. That's not always a given though, not every prospect is going to make it. Now that doesn't necessarily mean the Bombers should they go around shopping these guys, but perhaps they should be among the first offered when it does come time to talk trade.
The Yankees are carrying 48 players on their 40-man roster right now thanks to the eight 60-day DL guys, but at least three of the 40 healthy players — Dellin Betances, Zoilo Almonte, Melky Mesa — are unable to help the big league team right now if needed. They just aren't ready for it. A case can be made that Corban Joseph and Matt Antonelli belong in that group as well. There are going to be bubble players every year with regards to the Rule 5 Draft, and many times the best way to maximize what you get out of those guys is by trading them before they're even eligible.