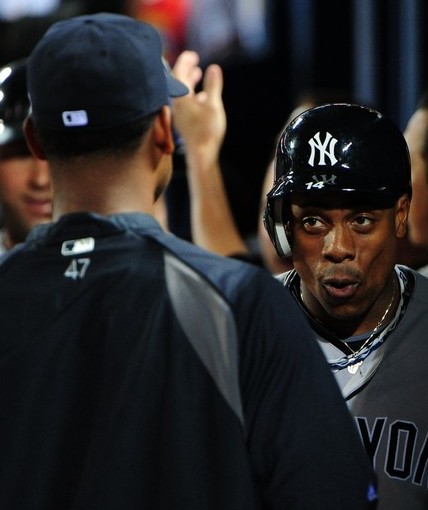 The Yankees have won six straight games and outside of the series opener against the Mets, they all have one thing in common: they were close games. Three of the last four games were decided by one run and four of the last five were decided by two runs or less. The one exception was a game separated by three runs. The bullpen has been worked hard but they continue to get the job done, preserving all those small leads. Joe Girardi is pushing all the right buttons right now.
David Robertson's expected return tomorrow will be a huge boost to the relief corps, especially if all this close game nonsense continues. The Yankees have played just 11 games decided by four of more runs in the last calendar month, a span that covers 28 games. They're 8-6 in one-run games and 14-9 in two-run games overall, which means more than one-third of their contests this season have been separated by no more than a bloop and a blast. That's a lot of tight baseball and with Mariano Rivera out for the season, a lot of stressful late innings.
The offense has continued to struggle with men in scoring position, particularly with the bases loaded, but the Yankees are averaging 5.2 runs per game during this 16-4 stretch. It's not like they're scratching and clawing for every run, they've just happened to score almost exactly five runs per game and not ten in one game and one in the next. The pitching staff has been doing its job and the timing has just worked out that every night features a close game that could go either way. It happens from time to time, and right now everything is breaking New York's way.
Wins are wins and I'll take them in any shape or form, but all the close games of late have been quite nerve racking. A few blowout wins in Washington this weekend — which won't happen because their pitching staff is insane — would be very much appreciated just so every game doesn't have me on the edge of my seat. A stress-free win would be appreciated at some point. Get Freddy Garcia some garbage time innings, ease Robertson back into things, maybe get Curtis Granderson and Robinson Cano off their feet for a few innings … we could all use a little of that.