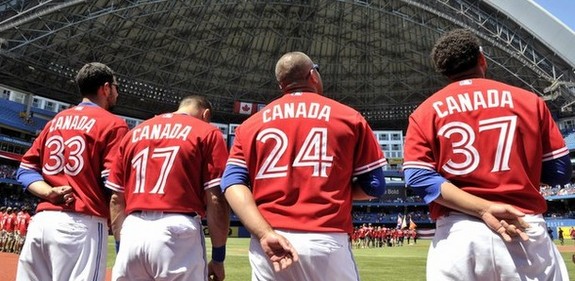 The Yankees have 74 games left to play this season, and 15 16 of them will be against the Blue Jays. That's basically one out of every five games. Three of those 15 games will be played this week, starting tonight in the Bronx.
What Have They Done Lately?
Toronto just took two straight from the Indians but have won just five of their last eleven games overall. They've hovered right around .500 all season long and are currently 45-44 overall, good enough to put them in a last-place tie with the Red Sox. Their +26 run differential is the third best in the division and sixth best in the league.
Offense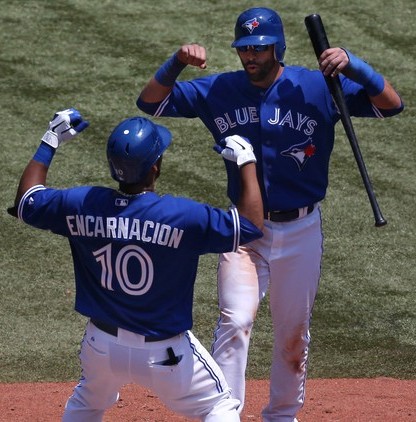 Only two teams have scored more total runs than the Blue Jays this season. They average just shy of five full runs per game on offense (4.99 to be exact) and own a team 104 wRC+. The guys who do the most damage are, naturally, Jose Bautista (142 wRC+) and Edwin Encarnacion (160 wRC+). They rank second and fourth in the AL with 27 and 25 homers, respectively. They're not quite vintage David Ortiz and Manny Ramirez, but Bautista-Encarnacion is one of the game's very best three-four lineup combinations.
Beyond those two, Toronto also has a surging Colby Rasmus (113 wRC+) and a bunch of guys who rate right around league average: Brett Lawrie (102 wRC+), personal fave Kelly Johnson (100 wRC+), and Adam Lind (93 wRC+). Lind has hit very well since returning from Triple-A, but it's only been 16 games. Rajai Davis (86 wRC+) brings the speed, J.P. Arencibia (85 wRC+) the power, Yunel Escobar (72 wRC+) the contact skills, and Omar Vizquel (33 wRC+) gives sweet veteran presents. Ben Francisco (78 wRC+) hasn't played much due to a hamstring issue and Jeff Mathis (120 wRC+) hit the snot out of the ball in April before crashing back to Earth. The Jays are always tough and this series will be no different.
Pitching Matchups
Monday: RHP Phil Hughes vs. RHP Henderson Alvarez
The Blue Jays currently have four starting pitchers on the DL, but Alvarez has been able to avoid the injury big so far. The 22-year-old right-hander owns a 4.36 ERA (5.19 FIP) because he gets ground balls (59.1%) and limits walks (1.93 BB/9 and 5.0 BB%), though his strikeout rate (3.02 K/9 and 7.9 K%) is the second lowest among qualified starters behind Derek Lowe. Alvarez just doesn't miss bats despite throwing four distinct pitches: low-to-mid-90s two and four-seamers, a mid-80s slider, and a mid-80s changeup. Left-handed batters have hammered him for a .375 wOBA (.318 vs. RHB) as well. The Yankees saw Alvarez once last September, hanging five runs on him in six innings.

Tuesday: LHP CC Sabathia vs. LHP Brett Cecil
Cecil absolutely annihilated the Yankees back in 2010 — ten total runs allowed in five starts — but he's not the same pitcher anymore. Toronto sent him all the way down to Double-A earlier this year before the injuries forced him back into the rotation, where he's pitched to a 6.75 ERA (5.66 FIP) in five starts to far. Cecil can still strike guys out a bit (7.09 K/9 and 17.5 K%) and he doesn't walk a ton (3.38 BB/9 and 8.3 BB%), but he is one of the game's most extreme fly ball (26.5% grounders) and homerun (2.03 HR/9) pitchers. His fastball has dipped down into the mid-to-upper-80s, creating little separation with his low-80s changeup. A mid-80s slider and upper-70s curveball round out his repertoire. The Yankees have seen quite a bit of Cecil over the last few years, and he's gotten progressively worse each time.
Wednesday: RHP Hiroki Kuroda vs. LHP Ricky Romero
At this time last season, Romero looked like he was in the middle of a breakout season and on his way towards becoming one of the game's elite hurlers. The 27-year-old southpaw has taken a big step back this year though, posting a 5.03 ERA (5.18 FIP) in 19 starts. His ground ball rate (55.7%) is holding on strong, but the strikeout (6.34 K/9 and 16.1 K%) and walk (4.64 BB/9 and 11.7 BB%) numbers have taken huge steps backwards. Romero's stuff — low-90s two and four-seamers, low-to-mid-80s changeup, mid-to-upper-70s curve — remains unchanged, but his command has been off. He'll falling behind in the count far too often — 51.5% first pitch strikes this year, down almost 9% from the last few years — and getting pounded because of it.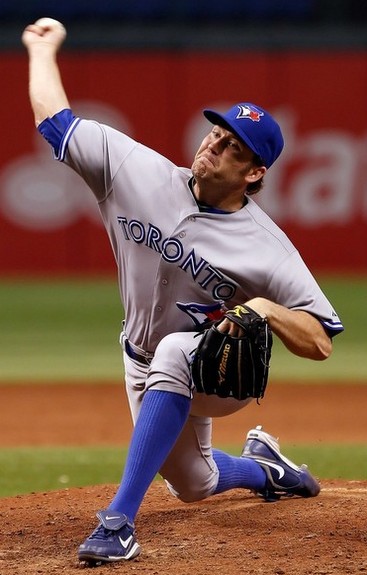 Bullpen Status
The Indians worked Toronto's bullpen over pretty well these last few days, forcing lefty reliever extraordinaire Darren Oliver (2.81 FIP) to throw two innings for the save yesterday. Regular closer Casey Janssen (3.04 FIP) had appeared in each of the previous two games. Right-hander Jason Frasor (3.65 FIP) has also worked in two of the last three games and is the third wheel in manager John Farrell's late-inning trio.
Because their rotation has been so compromised, the Jays are currently employing a 13-man pitching staff. You've never heard of most of them either. Aaron Loup (3.07 FIP in two innings) is their only other southpaw besides Oliver, then you have Chad Beck (5.13 FIP in 5.1 innings), Drew Carpenter (10.57 FIP in two innings), and Sam Dyson (one whole out recorded so far). Oh, and then there's the veteran Francisco Cordero (5.68 FIP), who has been one of the two or three worst qualified relievers in baseball this year. If the starter can get them through six innings, Toronto is generally okay. If not, all bets are off.
The Yankees' key late-inning guys all got some rest yesterday, so they're in good shape Make sure you check out our Bullpen Workload page for exact reliever usage. There are a number of great sites you can check out for the latest and greatest on the Blue Jays, including Drunk Jays Fans and Tao of Stieb.