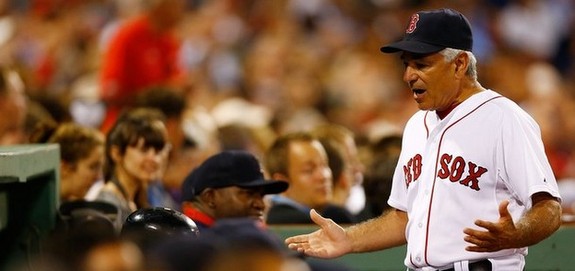 And so we meet again. The Yankees and Red Sox still have a dozen games left to play this season, including nine at Yankee Stadium. The first three of those nine will be played this weekend. The Yankees have won five of six against their greatest historic rival this year.
What Have They Done Lately?
Boston just lost two of three to the Rangers and have lost five of their last six overall. They're just 8-13 in July and currently sit in last place in the AL East at 49-50. Their +34 run differential is the fifth best in the league and they're five games out of a wildcard spot.
Offense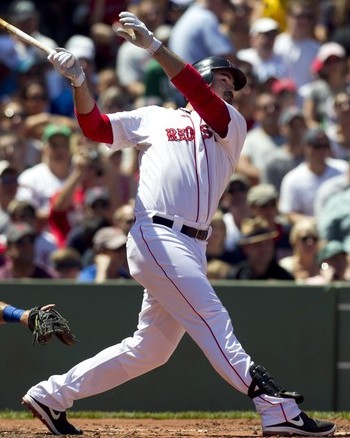 The Red Sox can score some runs, ranking third in baseball at 4.90 runs per game. Their team 101 wRC+ rankings eighth in baseball. This series is highlighted by injuries, with Alex Rodriguez (hand) and Nick Swisher (hip) on the shelf for the Yankees while Boston will be without David Ortiz (165 wRC+). He is, by far, their best hitter but will miss the series with an Achilles problem. Excuse me while I go shed a tear.
Cody Ross (126 wRC+) and Will Middlebrooks (123 wRC+) have been the Red Sox's best hitters among those who are actually healthy, though Adrian Gonzalez is an awful lot better than his 101 wRC+ suggests. Both Jacoby Ellsbury (91 wRC+) and Carl Crawford (38 wRC+) are back from the DL and in their usual outfield spots. Crawford actually gets lifted for defense in the late innings because his elbow is still giving him problems. Dustin Pedroia (91 wRC+) did not play the last time these two clubs met but will be in the lineup this weekend.
Outside of the catcher platoon — Kelly Shoppach (123 wRC+ vs. RHP) and Jarrod Saltalamacchia (117 wRC+ vs. LHP) — there isn't much bite to the rest of the lineup. Mike Aviles (78 wRC+) and Nick Punto (70 wRC+) are awful and Pedro Ciriaco (120 wRC+) is just 11-for-41 (.268) with no walks since crushing the Yankees in Fenway Park a few weeks ago. Daniel Nava (114 wRC+) has cooled down in a big way, ditto Ryan Sweeney (82 wRC+). The Red Sox can score runs in bunches, but Ortiz's absence is a huge boon for the Yankees.
Pitching Matchups
Friday: RHP Phil Hughes vs. RHP Aaron Cook
Cook, a 33-year-old sinkerballer, is having a rather fascinating season. He's made six starts and thrown 36 innings, but he's struck out just three (!) hitters. That works out to a 0.75 K/9 and a 2.1 K%. Cook's also walked three hitters while getting a ground ball on 60.6% of his balls in play. That's like Chien-Ming Wang to the extreme. It's crazy. Cook throws his upper-80s sinker more than 80% of the time while mixing in a mid-80s slider against righties and a mid-70s curveball against lefties. I'm very curious to see how this goes tonight.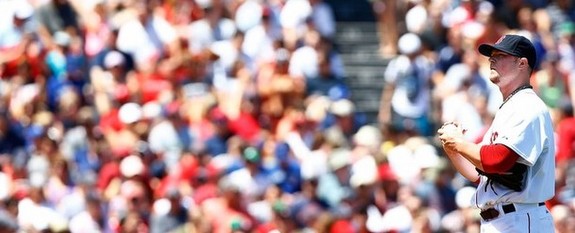 Saturday: LHP CC Sabathia vs. LHP Jon Lester
There is no sugarcoating it, Lester has been pretty awful this year. His 4.18 FIP is fine but his 5.46 ERA tells a much different story. Last time out, he surrendered 11 runs and 14 baserunners to the Blue Jays in four innings. It's ugly. Lester's strikeout rate (7.48 K/9 and 19.0 K%) is his lowest since 2008 and both his homerun (1.20 HR/9) and ground ball (47.2%) rates are his worst since becoming a full-time big leaguer. His walk rate (2.84 BB/9 and 7.2 BB%) is actually right in line with the best years of his career, so at least he has that going for him. Lester will use three low-90s fastballs — four-seamer, sinker, cutter — a mid-80s changeup, and a mid-70s curveball. He did a lot of bullpen work between starts following the disaster against Toronto, so we'll have to see if he sorted anything out.
Sunday: RHP Hiroki Kuroda vs. LHP Felix Doubront
Doubront carried a sub-4.00 ERA into June but has pitched to a 5.29 ERA since. Overall, he owns a 4.54 ERA (4.31 FIP) with a strong strikeout rate (8.83 K/9 and 22.5 K%) but middling walk (3.45 BB/9 and 8.8 BB%) and ground ball (41.7%) rate numbers. He's quite homer prone (1.35 HR/9) as well. The 24-year-old southpaw goes to work with low-90s two and four-seamers to setup his mid-80s changeup and mid-80s curveball. Right-handers have hit him pretty hard so far this year (.353 wOBA), though he's done a fine job against the Yankees in two starts (4 ER in 12.2 IP).
Bullpen Status
Both clubs had yesterday off, so their bullpens are fresh. Something tells me they're going to need them this weekend. The Red Sox own a rock solid 3.11 bullpen ERA (3.54 FIP) and are led by closer Al Aceves (3.67 FIP). Right-hander and noted head-hunter Vicente Padilla (2.59 FIP) sets up from the right side while Andrew Miller (2.76 FIP) gets things done from the left side. Reliever turned starter turned reliever Franklin Morales (3.45 FIP) is the other left-hander in Bobby Valentine's bullpen. The rest of the bullpen is filled out by righties Matt Albers (5.10 FIP), Mark Melancon (5.64 FIP), and Junichi Tazawa (1.96 FIP). Check out our Bullpen Workload page for the details on the Yankees' relievers, and check out Over The Monster for the latest and greatest on the Red Sox.