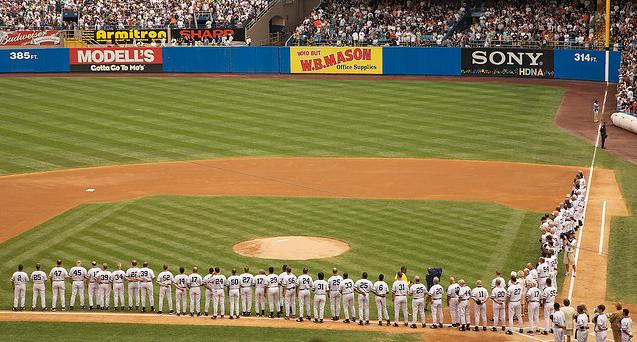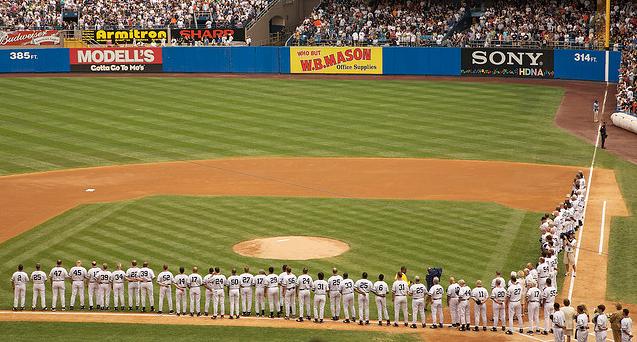 I've always felt that Old Timers' Day is one of those events you have to attend in person to really appreciate. Watching on television is fun and all, but you can't really appreciate the gravity of the situation. I was at the 2007 event, which was Paul O'Neill's first year back. The chants for him were just unbelievably loud, and then you had Don Mattingly and his chants. Then Reggie Jackson. Then Whitey Ford and Yogi Berra. It was amazing and having watched on television the last four years just isn't the same. It's fun, don't get me wrong, but it's much more enjoyable in person.
Anyway, this year's crop of newcomers is headlined by retired and long-time trainer Gene Monahan, as well as Sterling Hitchock, Matt Nokes, and Tanyon Sturtze. Jorge Posada will not be there this year, but he won't stay away forever. Most guys take a few years off before coming back. The full roster of Old Timers can be found right here.
The Old Timers' Day festivities start at 11am ET and can be seen on YES. The series finale against the White Sox will follow at 2:05pm ET, and you can watch that on YES locally and TBS nationally. I'll add the lineup once it's posted. Enjoy.
Update: Here's today's lineup…
SS Derek Jeter
CF Curtis Granderson
1B Mark Teixeira
2B Robinson Cano
RF Nick Swisher
DH Raul Ibanez
3B Eric Chavez
C  Russell Martin
LF Dewayne Wise
RHP Phil Hughes