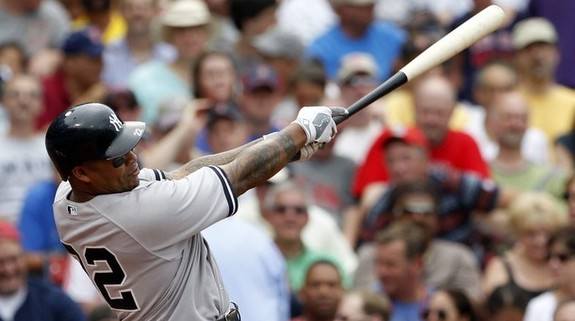 The All-Star break is over and while I'm sure we all enjoyed a few days away from baseball, it's time for the season to continue. The Yankees head into the second half with the best record in baseball and a seven-game lead in the division, not to mention eight games on the Rays and ten on the Red Sox. I don't think we could have asked for much more. The Angels have the best record in baseball since Mike Trout was recalled (42-24) and they're always a pain to play. Here's the starting lineup…
SS Derek Jeter
CF Curtis Granderson
1B Mark Teixeira
3B Alex Rodriguez
2B Robinson Cano
RF Nick Swisher
LF Andruw Jones
C Russell Martin
DH Jayson Nix
RHP Hiroki Kuroda
Tonight's game starts a little after 7pm ET and can be seen on My9 locally and MLB Network nationally. Enjoy.
CC Sabathia Update: Sabathia (groin) threw 30 pitches in a simulated game today and felt fine. He will throw a bullpen session on Sunday and come off the disabled list to start against the Blue Jays on Tuesday. There won't be any restrictions, he's good to go.
Brett Gardner Update: Gardner (elbow) took batting practice today and he'll do so again tomorrow. Assuming that goes well, he'll play in a simulated game on Sunday.