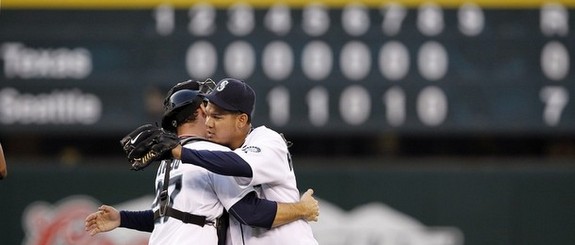 All of the Ichiro Suzuki hoopla is done and over with, meaning now it's time to look straight ahead and focus on the task at hand.
Crap. Felix Hernandez is pitching tonight.
King Felix has shaken off a (relatively speaking) slow start to the season to allow one earned run or less in six of his last seven starts. Those didn't come against scrub teams either, he dominated the Red Sox (9 IP, 5 H, 0 R, 1 BB, 13 K) and Rangers (9 IP, 3 H, 0 R, 0 BB, 12 K) during that stretch. You can make a pretty strong case that he's having a career year as well. The Yankees, meanwhile, are running Freddy Garcia out there. I'm really pulling for that reverse lock, you guys. Here's the lineup…
SS Derek Jeter
CF Curtis Granderson
3B Alex Rodriguez
2B Robinson Cano
1B Mark Teixeira
LF Raul Ibanez
DH Eric Chavez
RF Ichiro Suzuki
C  Chris Stewart
RHP Freddy Garcia
Tonight's game, the final West Coast night game of the season, is scheduled to start a little after 10pm ET and can be seen on YES. Enjoy if you're still awake.
Brett Gardner Update: Gardner (elbow) had surgery today and "everything went well," according to Joe Girardi. They removed the inflamed tissue and shaved down some bone chips. Gardner is definitely done for the season.