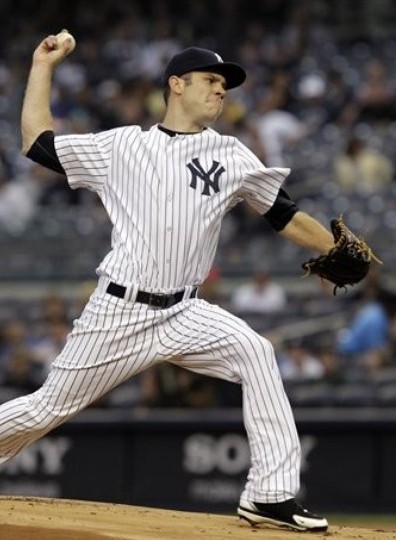 Going into the 2012 season, David Phelps was considered valuable rotational depth, with a chance to work his way onto the big league roster as a long man.  Phelps was part of an interchangeable trio of prospects, including Adam Warren and D.J. Mitchell, who were expected to fill the swingman role that Hector Noesi occupied in 2011.  While I appreciated his polish and fastball command, I never really thought he had a chance of holding down a rotation spot for the Yankees long-term.  I am still leaning in that direction, but Phelps has done a lot of late to demonstrate that he may have been undervalued in the past, as Ivan Nova was a few years ago.  With injuries to the Yankee rotation and bullpen, Phelps has divided his time between spot starting, long relief, short relief, and several minor league stints.  Phelps has handled himself well in all of these roles (particularly over the last few weeks), but the Yankees' usage of him has raised questions about how he should be best utilized this season.  There are several routes that they could take, each of which has positives and negatives.
Replace Freddy Garcia, take over the #5 spot
Freddy Garcia has bounced back from his nightmarish start to the season, showing that he still has something left in the tank.  Since returning to the rotation after Andy Pettitte and CC Sabathia went on the DL, Freddy has given up 13 runs in 30 innings (about a 3.90 ERA) with 27 strikeouts against 9 walks.  This performance hasn't given the Yankees much reason to make the switch, since there is a bit more uncertainty associated with Phelps (even though he has pitched well of late).  While Phelps could bump Garcia if he goes through another rough patch, the Yankees don't seem especially interest in flip-flopping their roles.  If the Yankees have any interest in trading Phelps, giving him the opportunity to prove himself as a full-time major league starter is not a bad way to build value (assuming he succeeds).
Build up innings in AAA
Since Phelps' long-term role is likely a starter (whether in the Yankee organization or elsewhere), it could make sense for the Yankees to let him get the opportunity to start every fifth day in the minors.  This would allow him to build up his innings, work on his secondary offerings, and allow him to experiment/tinker without too much concern about the outcome.  If he is going to earn a spot in the Yankee rotation next season (a big if), having no innings limit would be very helpful to the team.  The downside is that Phelps has already demonstrated his ability to succeed at the AAA level, and pitching in the minors may not provide enough of a challenge, possibly leading to stagnation or regression.
Long relief/swingman role
Phelps has proven himself capable of filling the niche that Noesi occupied last year, as he has the ability to work multiple innings to save the rest of the bullpen during a blowout.  He also can make a spot start should injury suddenly befall a member of the Yankee rotation.  The concern here is that Phelps' usage could be sporadic (especially because the Yankees don't get blown out too often), and the lack of work could hurt his performance and trade value.
Short relief
While the Yankee bullpen has been strong this season, there are still some areas where they can improve.  For the beginning of the season, Cory Wade held down the 7th-inning role very capably, but his recent struggles caused him to get demoted to AAA.  Clay Rapada, Boone Logan, and Cody Eppley have all exceeded expectations this season, forming a strong bridge to David Robertson and Rafael Soriano.  However, all three guys (with the possible exception of Logan) are best utilized in matchups against same-sided hitters, which limits their flexibility.  Phelps would likely not have the same platoon disadvantage, and could be used in middle relief roles against both righties and lefties.  This could provide some stability for the 7th inning, or any earlier important situations that the Yankees may come across.  When Joba Chamberlain comes back (which should be pretty soon), Phelps' utility in this role will likely diminish, but until then this could be a good way of getting him some work in high-leverage outings.
As always, the concern exists about whether repeatedly switching Phelps between starter and reliever will cause him any long-term harm.  While many have blamed the Yankees' treatment of Joba Chamberlain in this fashion for his subsequent injury problems, I'm not sure the connection is so clear.  Regardless, I don't think Phelps is anywhere near Joba's class as a prospect, and even with his recent improvements, his ceiling is probably that of a #4 starter.  Consequently, I have no problem with moving him around to help him fit the team's biggest present need.  At the moment, that is in the major league bullpen.  I'd probably keep Phelps in a high-leverage short relief role until Chamberlain comes back, then shift him to more of a long-relief/swingman role (but try to get him some regular work so he stays sharp).  If Freddy Garcia falters before Andy Pettitte returns, Phelps should be able to step in and hold down the fort.
Phelps' emergence this season has been a pleasant surprise, and his versatility will be important for the Yankees' pitching depth this season.  He has put himself in the rotation mix for 2013 if Andy Pettitte and Hiroki Kuroda do not return, and potentially boosted his value to bring back a useful piece in a trade.  Joe Girardi will likely utilize Phelps in a variety of roles between now and October, and I would be surprised to see him go back to AAA anytime soon.  Whatever role he occupies, Phelps should be a useful piece for the Yankees' pitching staff this season.