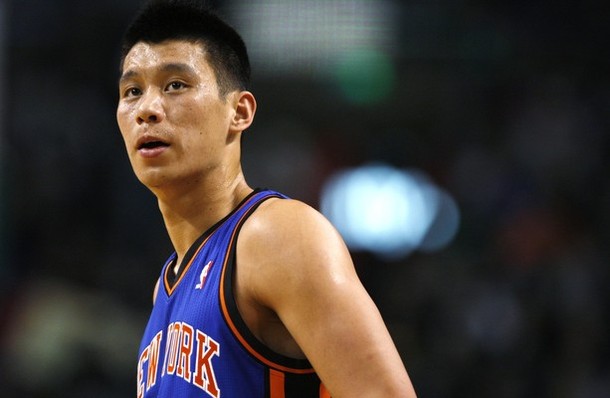 As a New York native, I was disappointed to hear that the Knicks declined to match Jeremy Lin's offer sheet, allowing him to sign with the Houston Rockets.  Watching Lin's emergence out of obscurity to become an impact player (and the phenomenon that was Linsanity) was one of the more exciting things to happen to the Knicks in recent memory for this tepid NBA fan.  I figured it was a no-brainer that he would be re-signed by the Knicks, especially after the arbitrator ruled that Lin (and Steve Novak) would be granted "Bird Rights" that would allow the Knicks to pay them more than what their cap situation should allow.  On top of all the promise Lin showed on the court, his off-court financial impact seemed like sufficient incentive to keep him.  Maintaining fan enthusiasm would seem to be an important priority with the Nets moving to Brooklyn this year, and looking like a possible contender.
The main justification for the decision seems to be the third year in Lin's contract, which would pay him about $15 million and cost the Knicks a lot of money in luxury tax.  There are certainly a number of angles to this story, such as whether the decision to let Lin go was a financial move, a basketball move, or the result of petty machinations of a petulant owner.  I won't claim to know enough about the Knicks or the NBA to single out one of these as the decisive cause, but you can consult Moshe if you want a more informed (and impassioned) take.
While there are certainly major differences here, the Lin decision brings to mind some tough choices that the Yankees may have to make in the near future if they are serious about getting their payroll below $189 million in 2014.  The impending free agencies of Curtis Granderson, Robinson Cano, and Derek Jeter are interesting parallels.  As has been discussed extensively on this blog and elsewhere, if the Yankees are able to get their 2014 payroll below $189 million, they will be able to save a ton of money.  They will do this by resetting their luxury tax rate and having a portion of their revenue sharing payments refunded, the latter of which is particularly compelling because that money subsidizes their small-market competition.
Assuming Cano and Granderson continue their high level of play, they will demand and likely receive lucrative multi-year contracts.  While the Yankees have the financial resources to outbid all comers if they really want to retain both, the looming specter of the $189 million salary ceiling may cause them to exercise some restraint.  In Lin's case, the $15 or so million that represented his salary was only a portion of the total outlay, due to the luxury tax that the Knicks would pay, increasing his cost to the team.  Similarly, if the Yankees give out big contracts to both Granderson and Cano, and are unable to stay under $189 million, they will face additional costs.  Not only would they pay a substantial luxury tax penalty (by percentage), but they would also lose the major savings gained by resetting the luxury tax and reducing their revenue sharing obligations.  From this viewpoint, it is possible to want to retain Lin, Granderson or Cano from an on-field perspective, but recognize that the financial costs in excess of their contracts might be too high.
The Jeter case is also an interesting one with some parallels to Lin.  Jeter has an $8 million player option for 2014, but if he continues to play at his current level (2-3 WAR annually), I could see him turning down the option and looking for a multi-year deal.  He wouldn't have a ton of leverage at age 39, but if he is planning on chasing additional milestones (such as the all-time hits record), he would need to stick around into his early 40's to have a shot.  While it may not be smart from a baseball perspective to resign Jeter to a multi-year deal at that age, there will be significant fan and media pressure to do so.  As with Lin, signing Jeter to a bigger salary for 2014 would have luxury tax implications, and force the Yankees to make a difficult choice about a franchise icon.
For years, the Knicks have had one of the highest payrolls in the NBA, and I figured that all the hype surrounding Lin would make it a no-brainer for publicity-loving owner James Dolan to bring him back.  But if we believe that the Lin non-signing was primarily the result of financial motives, then it is an acknowledgement that even the big-spending Knicks have their limits.  Over the next few years, we will find out if the deep-pocketed Yankees have limits of their own.  While they have been outbid on a few big free agents in recent years (most notably, Cliff Lee), there are very few cases of the Yankees not being able to re-sign their own marquee players during the Steinbrenner era.  They may still be able to retain Cano, Jeter, and Granderson without crossing the $189 million threshold, but it will certainly be difficult, and could require some cost cutting at other positions (right field, 5th starter, etc.).
Obviously, there are important distinctions between the Knicks' and the Yankees' situations.  The harder salary cap in the NBA limits the Knicks' flexibility in a way that a simple luxury tax (unless it were incredibly punitive) could not do to the Yankees, unless the Yankees choose to restrict their spending.   There is a lot more uncertainty regarding Lin's future performance than there would be for Cano or Granderson, even accounting for the fact that the Yankee duo will be on the wrong side of 30 for the entirety of their next contract.  While Cano and Granderson are both great players, they do not have the singular ability to generate fan and media buzz that Lin demonstrated last year.  Jeter may have similar uncertainty about his future performance, and like Lin, his status as a franchise icon would make his departure a PR disaster.  However, the financial commitment to Jeter is not likely to be as significant even if he declines the option.
It will be interesting to track the Yankees' payroll situation over the next few seasons, to see if the $189 million limit restricts them in any way from their perennial pursuit of top free agents such as Cole Hamels or Zack Greinke.  It will also be a test of the Yankees' willingness to virtually always retain important contributors, even if this requires them to pay market value or higher.  Something may have to give at some point.  While I don't expect the kind of backlash that James Dolan is facing after letting Lin walk, the response from fans and the media could be very critical of the Steinbrenner regime if they let an important player sign elsewhere for financial reasons.  While this may not be the Yankee way, it may be a new reality that Yankee fans will have to deal with.