Got four questions for you this week, and remember to use the Submit A Tip box in the sidebar to send us future mailbag questions.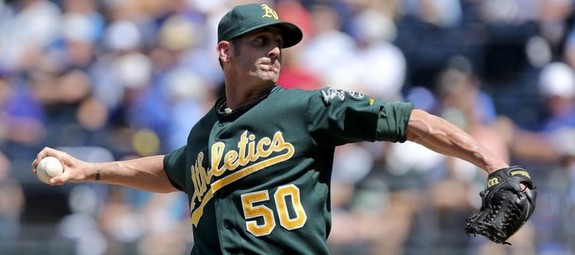 Mark asks: I know the Yankees have liked him in the past, since Oakland appears to be in sell mode – how does Grant Balfour look as Joba Chamberlain insurance?
Balfour, 34 had a rough start to the season but has settled down and pitched to a 3.14 ERA (3.74 FIP) overall. He's making $4M this season with a $4.25M club option for next season ($350k buyout), so he's a rental. There are three big red flags here. One, his strikeout rate (6.70 K/9 and 18.8 K%) is way down compared to the last few years (8.82 K/9 and 24.8 K% from '10-'11). Two, his walk rate (3.77 BB/9 and 10.6 BB%) is way up (2.84 K/9 and 8.0 BB% from '10-'11), and three, his fastball velocity is down into the low-90s and has been trending the wrong way for a few years now. That's like the red flag trifecta right there.
Brian Cashman tried to work out a sign-and-trade deal for Balfour last offseason, before ownership stepped in and signed Rafael Soriano. I'm not sure if they still like him given this year's decline, but the price shouldn't be high at all. The Athletics could save some cash and get maybe a Grade-C prospect in return as part of a trade, which is better than holding on to him for another two months and losing him for nothing after the season. Balfour has AL East experience and that's always nice, but that won't save him if the fastball and ability to miss bats is gone. If the Yankees can get him real cheap, sure try him out. Low risk move. I wouldn't expect a ton out of him, however.
Travis asks: Considering the depth of pitching the Yankees have, do you see them making a big free agent signing? They have CC Sabathia, Ivan Nova, Phil Hughes, David Phelps already in the rotation next year and in AAA, they will have D.J. Mitchell, Adam Warren, Brett Marshall, Vidal Nuno, Mikey O'Brien, Dellin Betances and Manny Banuelos. That's a lot of fourth and fifth starters (and some second and third) in the minors. Hard to see giving multiple years to pitchers this year and coming years.
That's the problem, the vast majority of those minor league guys you mentioned are back-end starters. You don't really make room for those guys, especially if you're the Yankees. You let them come up and fill-in if someone gets hurt and you need a spot starter. I mean, if the choice is adding a Cole Hamels or leaving a spot open for someone like Brett Marshall … that seems like an easy call to me.
That said, the 2014 payroll plan is going to impact the team's free agent decisions more than anything. They'll need a few of those guys for depth reasons but I wouldn't let them stand in the way of adding an impact arm. Heck, I wouldn't let them stand in the way of re-signing Hiroki Kuroda. We've written this before, but the Yankees can add a guy like Hamels on a huge contract and still get under the luxury tax threshold in a few years, but it will take some serious creativity. Perhaps it involves dealing a few of those arms for a cheap outfielder or two as a way to offset the cost. I love prospects as much as anyone, but the Yankees don't have anyone in their system right now that you can point to as a surefire impact pitcher.
Nick asks: So I know there is speculation about a Justin Upton trade. You had mentioned that to get him you would open up the farm system for him. Is there anyway the Yankees can get him AND hold onto Mason Williams or Gary Sanchez? If so, who would you prefer to keep?
I suppose there's a way to do it, I just don't know how they could. The Yankees and Diamondbacks don't matchup well in a trade because Arizona has a ton of pitching and needs a third baseman and a shortstop. Maybe they really, really like Brandon Laird and Eduardo Nunez, but I wouldn't get my hopes up. I can't imagine a lower level guy like Dante Bichette Jr. would work; if you're trading a franchise-type player like Upton, you can't accept A-ballers in return, especially if you're as close to contending as the D'Backs are.
As far as Williams and Sanchez, I'd prefer to keep Mason but honestly I wouldn't let either guy stand in the way of a potential trade. Williams has a much more well-rounded game and while Sanchez has serious impact potential, I do still worry about his strikeouts a bit (27.1 K% last year, 23.2 K% this year). Love both guys though and would be willing to move one or the other in a package for a guy like Upton no questions asked. Hell, if those two were going to be the centerpieces of a trade with some miscellaneous pieces added, go for it. I'd have no problem giving up Single-A kids — even super high-ceiling ones like Williams and Sanchez — for a player of Upton's caliber and potential.
Daniel asks: If the time comes when Elvis Andrus hits the free agent market, can you see the Yankees being major players for him? I believe he'd hit the market at age 25 or 26.
Oh yes, definitely. Andrus is the guy I'm hoping the Yankees will grab to replace Derek Jeter when the time comes. He'll become a free agent right as the Cap'n's deal is up and Texas has Jurickson Profar coming. Andrus is still only 23 (!) and will hit the open market at 26, so you're getting all of his peak years. This is a guy that is already an elite defender at short who gets on-base (.368 OBP this year, .345 career), doesn't strikeout (12.3 K% this year, 13.0 K% career), steals bases (30+ in each of the last three years plus he'll get this year again), and stays on the field (145+ games played every year of his career). He also has World Series experience and that's certainly not a negative.
Now obviously a lot can change between now and then, but Andrus makes a ton of sense for New York if they're looking for a Jeter replacement in two years. I suspect Texas will either a) trade him, or b) trade Profar and extend Andrus before then, however. If he does hit the open market though, the bidding will be out of control. Middle infielders that productive and that young just don't become free agents these days. I don't think a deal worth $20M annually across 8-10 years is out of the question if he keeps this up.
Quick Update: Andrus is a Scott Boras client, so the odds of him signing an extension with Texas are small while the odds of him signing a megadeal as a free agent are huge.