Just four questions this week, and they're all geared towards potential roster moves. Use the Submit A Tip box in the sidebar whenever you want to send us something.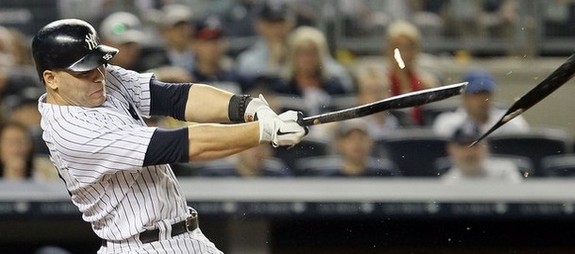 Matt asks: Given his current performance, do you think the Yankees are going to re-sign Russell Martin (and, should they)? If so, what kind of contract do you think he's going to get?
I wrote about the catching situation yesterday and how the Yankees should look for an upgrade behind the plate, but that's obviously easier said than done. I don't think Martin's true talent is a .178/.297/.347 batting line, he's probably closer to a .225/.320/.380 guy. That's not great but it's at least tolerable, you can live with it behind the plate as long as he's solid defensively and hitting eighth or ninth. I think that Martin's back may still be bothering him, which would at least help explain the recent dreadful production.
Anyway, looking for an upgrade and potentially re-signing Martin after the season are two different thing. I'm sure Russ is kicking himself to turning down that three-year extension before the season but then again the catching market is weak. After Mike Napoli, Martin will be the best free agent catcher this offseason. Someone may and probably will overpay. If the Yankees could bring him back on one of those one-year, "re-establish your value" contracts, wouldn't that be a pretty decent stopgap option until that 2014 payroll plan takes effect? Pair him with Austin Romine as a veteran caddy, they could do worse as long as they actually split time behind the plate.
Gabriel asks: What about trading for Kelly Shoppach as a back-up? I just read on MLBTR that the Red Sox were thinking of dealing him. Red Sox-Yanks deals are always tough, but what do you think?
Shoppach can hit a little, though he's not really a .267/.359/.522 hitter like he has been this year. His primary value comes against left-handed pitchers, who he's tagged for a .249/.348/.465 line over the last three seasons. That's a useful platoon guy and would be a clear upgrade for the Yankees. The problem, as you know, is the whole Red Sox-Yankees thing. I can't see those two teams getting together for a trade unless Boston just completely falls apart and decides to sell before the deadline (or even during the waiver trade period in August). I think they would have to get a real prospect in return as part of the trade, otherwise the negative PR from "helping the Yankees" probably isn't worth it. He'd be a fit, he knows the division from his time with the both the Sox and Rays, but I just don't think he's actually obtainable.
Alex asks: According to Jayson Stark, the Angels are willing to give up Peter Bourjos in a deal for the right bullpen piece. Given that David Aardsma and Joba Chamberlain will be back this summer, would it be worth dealing Rafael Soriano to pick up an outfielder for the next few years?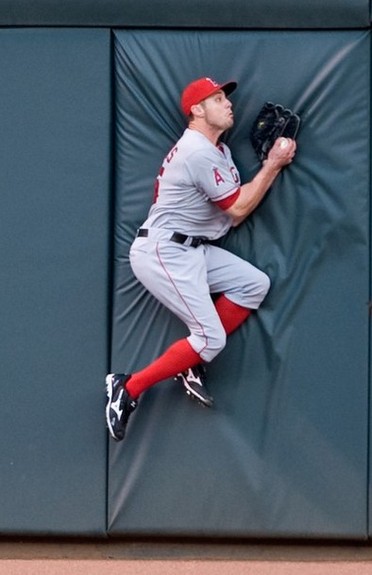 No, I don't think so and for a few reasons. For one, the goal is still to win this year and trading Soriano for Bourjos decreases the team's chances of doing so. Aardsma just had his setback and despite all his progress, we have no idea what the Yankees will get out of Joba until he's actually on a mound for them. They can't start counting their chickens before they hatch.
Secondly, I'm just not a big Bourjos fan. I know he's young and cheap and under control for the next half-decade and all that, but I'm just not a fan of defense-first players. We've — well not me specifically, but the baseball analysis community in general — come a long way with advanced defensive metrics but I still don't have a ton of faith in them. That doesn't mean I think Bourjos or Brett Gardner are bad players, just that I don't think WAR accurately grades out their value. Plus could you imagine those two in the outfield at the same time? Even with Curtis Granderson the Yankees would still be lucky to get 45 homers out of their outfield.
The Bombers do need to add some kind of young outfielder for the long-term, but not enough to trade Soriano for him unless you're getting a Mike Trout or something. Soriano may opt-out after the season and sign elsewhere and leave the Yankees with nothing to show for his tenure, who knows, but the best chance for the Yankees to win this season — before Alex Rodriguez, Derek Jeter, CC Sabathia, etc. get a year older — is with him in the bullpen closing games.
Joe asks: What is Shin-Soo Choo's contract status and do you think he would be a viable candidate to play right field and therefore let Nick Swisher walk?
Choo is making $4.9M this season and will be under team control one more time as an arbitration-eligible player next year. He'll be a free agent after 2013. The Yankees would have to trade for him and any kind of extension would probably be in the range of whatever Swisher gets this winter. Choo's a year or two younger, better defensively, and more of a on-base/gap power/stolen base guy that someone who hits the ball over the fence. Similar players and the difference between the two really isn't worth arguing.
I think rentals are generally undervalued; there's nothing wrong with giving up prospects for one year or even half-a-year of a player if he improves your chances of winning that year enough. Choo falls into that category but I'm not sure if the Indians would actually make him available, and if they did the price would be pretty high since he's their like, franchise cornerstone guy. Him and Carlos Santana. He'd be a perfect fit for the Yankees but as always, it comes down to the price.