Two out of three ain't bad, but man it would have been nice to see the Yankees complete that five-run comeback in the ninth. Especially against the Angels, that would have been sweet.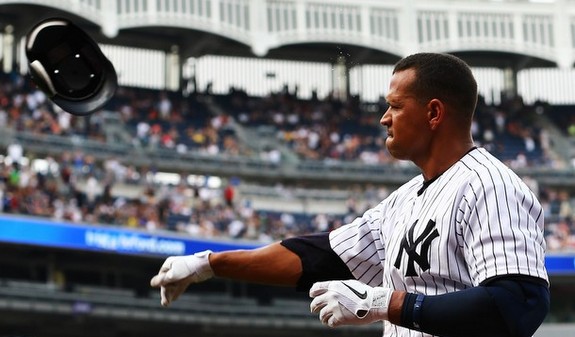 Lift & Separate
That was the way David Cone described Mark Teixeira's homerun swing the ninth inning. Lift and separate, like a Wonderbra. Coney always seems to have a way with words.
Anyway, Teixeira's dinger was the team's fourth of the day and the first runs (it was a two-run shot) allowed by Ernesto Frieri since the Angels acquired him from the Padres, a span of 26.1 innings. Alex Rodriguez took Jered Weaver deep for a two-run shot in the first, Curtis Granderson got him for a solo shot in the sixth, and Eric Chavez tacked on another solo dinger in the seventh. Weaver still owns a shiny 0.58 ERA at home, but the Yankees raised his road mark to 3.63 on Sunday afternoon.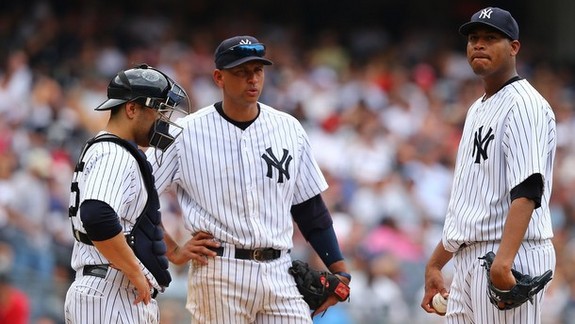 All The Runs Allowed
Eight runs and 17 baserunners is a pretty good way to win a game, but not when the Yankees received the kind of pitching they did out of Ivan Nova and Chad Qualls. Nova surrendered back-to-back homers to Erick Aybar (!) and Albert Pujols in the first plus a two-run shot to Maicer Izturis (!!) in the sixth. Izturis came into the game with a .266 SLG (!!!). The Halos tagged him for nine hits — four for extra bases — and six runs in six innings, bringing his season ERA back up over 4.00 (4.18 to be exact) after getting under for one start.
Qualls wasn't much better, allowing three runs while getting four outs. That allowed the Angels to break things open and put the game to bed, ninth inning rally or not. Since coming over from the Phillies, the veteran right-handed reliever has faced 23 batters in pinstripes and has struck out exactly one. It's good that he's a sinker baller and all that, but it can be problematic with a below average defense on the left side of the infield. D.J. Mitchell gave up the obligatory homer to Mark Trumbo (a solo shot) and pitched out of a bases loaded situation in the ninth. Just an ugly day on the mound overall, no doubt.
Gift Outs
The Yankees kept the Angels in the game during the first five innings by just flat out giving away outs at times. Russell Martin bunted into three outs — one was popped up and Chavez was doubled off first — and three others came on the bases. Derek Jeter was caught making a wide turn around first on an RBI single in the second and then both Robinson Cano and A-Rod were picked off on the same play in the third. Cano got caught in a rundown between first and second before A-Rod was thrown out trying to sneak home. It was bad, very bad. Especially with Teixeira at the plate. At one point five of eight Yankees reached base against Weaver but four of those gift-wrapped outs killed rallies. Brutal.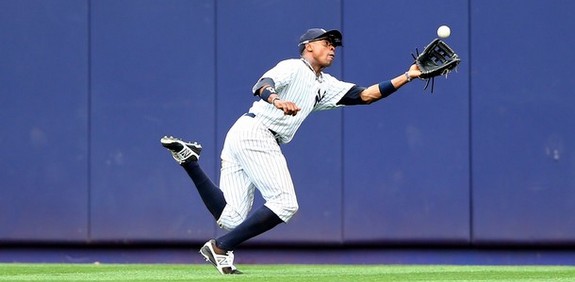 Leftovers
The Yankees have now scored at least three runs in 39 straight games, a new franchise record. That's kinda surprising, no? I would have guessed the record would have been like, 60 straight games by one of those Babe Ruth-Lou Gehrig teams or something. Neat little footnote in an otherwise forgettable game.
Every starter had a hit except for Martin and Nick Swisher, though at least Swish drew a pair of walks. Martin contributed nothing to the offense two days after providing the winning hit. Cano extended his hitting streak to 18 games, the second longest of his career. He's three away from tying his career-long set back in 2010. Chavez went 3-for-3 with the homer to raise his season line to .290/.340/.522 in 153 plate appearances. He's going to have to get regular DH at-bats when Brett Gardner comes back, right?
The ninth inning rally — three runs on two hits and four walks — fell short when A-Rod popped up to end the game, but at least they made it very interesting. Frieri and Scott Downs came into the weekend having allowing just one earned run between them, but the Yankees hung six on them in the series. I figured the game was over once Qualls did his thing, so the late-rally was enjoyable even if it fell short.
One last note: Granderson made two just insane catches in center to prevent the Angels from really breaking things open. That catch at the wall of Mike Trout's fly ball in the third could have easily been an inside-the park homer if he didn't reel it in. Between the homer, the monster eight-pitch at-bat to draw a walk (and force in a run) off Downs in the ninth, and the two catches, you can make a case that this was Grandy's best game of the season.
Box Score, WPA Graph & Standings
MLB.com has the box score and video highlights, FanGraphs the nerd score, and ESPN the updated standings. The Orioles lost, so the Yankees still have a comfortable eight-game lead in the division. The Rays are nine back, the Red Sox and Blue Jays ten each. Pretty awesome.

Source: FanGraphs
Up Next
Those Blue Jays are coming to town for a three-game set starting Monday night. Phil Hughes kicks that one off against Henderson Alvarez. Check out RAB Tickets for the latest and greatest deals if you want to attend the game.