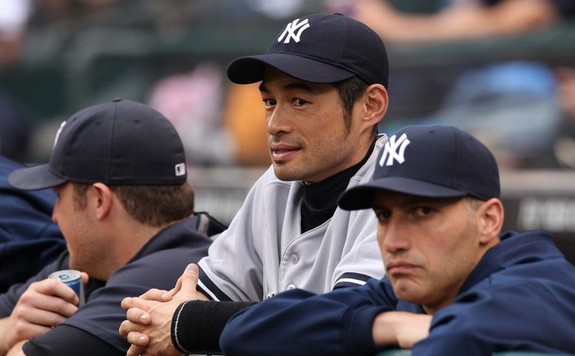 The Yankees were dealt a pretty big blow when Brett Gardner went down with likely season-ending elbow surgery last week, an injury he initially suffered back in April. They've done well without him but the offense has been devoid of speed and the outfield defense suffered in a big way. A replacement outfielder was definitely on the trade deadline shopping list but it wasn't a necessity.
After fiddling around with Raul Ibanez, Andruw Jones, Jayson Nix, Dewayne Wise, and even Eduardo Nunez earlier in the year, the Yankees addressed the outfield situation yesterday by acquiring Ichiro Suzuki from the Mariners for D.J. Mitchell and Danny Farquhar. Seattle will pay all but $2.25M of his $17M salary. Ichiro will become a free agent after the season, so it's a straight rental. As has become the tradition following notable news items, here are some scattered thoughts on the trade…
Machinations: Apparently Ichiro requested a trade a few weeks ago and the ball got rolling when Mariners president Chuck Armstrong called Randy Levine, which sent shivers down my spine. The trade was perfectly fine, very reasonable, but anytime those above the baseball operations department get involved, I get nervous.
Expectations: I don't expect very much from Ichiro the rest of the way — maybe he gets the batting average up to .300 (and his OBP up to .330) by being platooned properly and he winds up stealing a bunch of bases. Yankee Stadium won't help him much because he's a ground ball hitter, not a guy who lifts the ball in the air to the pull side. Perhaps joining a contender bring his bat back to life and maybe his career-low .279 BABIP corrects. Either way his primary value will come on defense, on the bases, and by putting the ball in play. The Yankees have lacked that.
Left or Right: Given his throwing arm, it would make sense to put Ichiro in right and shift Nick Swisher to left. Then again, there is more ground to cover in left field in Yankee Stadium. Ichiro hasn't played left in more than a decade, so that will take an adjustment. I'm not exactly sure which corner would be best for him, but I feel like there is no wrong answer.
Durability: One of Ichiro's underrated skills — and it is a skill — is his durability. He missed a little more than two weeks with an ulcer in 2009 but otherwise has never been on the DL since coming over from Japan. He's played in 159 games and led the league in at-bats in eight of the last nine seasons. This is a guy who is used to playing the outfield everyday and is more suited to do so than Ibanez, Jones, or anyone on the roster not named Curtis Granderson or Swisher.
Marquee Value: Like Derek Jeter, Ichiro is the rare player with legitimate marquee value. He's going to help sell merchandise, put butts in the seats, and drive up YES Network ratings. That value is generally overstated — he's not going to pay for himself or anything — but it is real and should not be neglected. He's going to bring a definite buzz to the team, some of which we saw last night.
The Return: With all due respect to Farquhar, Mitchell was the real loss for the Yankees. I always considered him a swingman/long reliever type and the Yankees seemed to feel the same way, but there is value in that as long as he's cheap. David Phelps pushed Mitchell down the totem pole a bit and the presence of Adam Warren in Triple-A and Brett Marshall in Double-A made him expendable. I would have rather given up Warren — hence my post-draft prospect rankings — but it's not a huge difference.
Pitching Depth: Mitchell was the next-in-line whenever the Yankees needed an arm from Triple-A, so I suppose that duty now falls on the shoulders of Warren.  He was obviously terrible in his big league debut, but one appearance doesn't define a career. Behind him you have Cory Wade as a call-up option and that's really it as far as 40-man roster candidates go. The Yankees work the waiver wire and scrap heap as well as anyone, so I bet they pluck an arm of two off waivers for depth in the coming weeks.
Roster Spots: The Yankees currently have ten (!) players on the 60-day DL and will need to clear room for these guys at some point. Yesterday's moves cleared two spots — Mitchell's and Wise's — but one went to Ichiro. They have one open spot at the moment and with any luck, it will go to Joba Chamberlain when he's activated in a week or two. Moving Mitchell helped clear up a logjam of sorts, albeit very slightly.
Miscellany: The Yankees replaced the 34-year-old Wise with the 38-year-old Ichiro, let's stop acting like the roster got lifetimes older … I hope Ichiro goes on to have a monster David Justice-esque second half but the Yankees don't trick themselves into thinking he's worth a spot on next year's team as a stopgap outfielder … how about Farquhar? Dude went from waiver claim and being designated for assignment twice this season to being traded for a future Hall of Famer … I'm still in awe that Brian Cashman and the Yankees in general are able to make all these significant moves completely under-the-radar, there are no leaks whatsoever. This came out of the blue.
The Yankees plugged a relatively small hole with a move that was notable only because it involved a historic player. Ichiro is obviously well past his prime and any thoughts of a revival are wishcasting at its finest. He can still be useful on defense and on the bases, but the Yankees will wisely bat him near the bottom of the lineup. Ichiro's a fun and entertaining player, and sure hope the Yankees can help get him that World Series ring he surely covets.