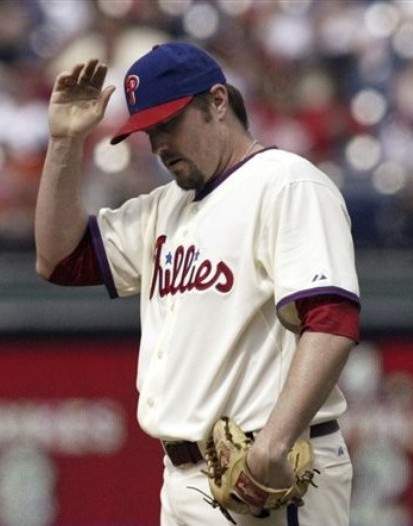 The injuries to CC Sabathia and Andy Pettitte have hurt the Yankees in more ways than one. Obviously the biggest loss is in the rotation, where both guys where providing the team with lots of high quality innings every five days. As we saw with Adam Warren, plucking a kid out of Triple-A and inserting him into the rotation is much more effective in theory than in practice. It'll be impossible for David Phelps and Freddy Garcia to replace what Sabathia and Pettitte the team on the field, so the Yankees are just going to have to hope they can tread water for the time being.
The losses of CC and Andy go beyond the rotation, however. Garcia's move to the rotation also weakens the bullpen despite what will surely be D.J. Mitchell's best efforts. Cory Wade's crash back the Earth and the still weird acquisition of Chad Qualls further weaken the middle relief corps. Both Clay Rapada and Cody Eppley have been effective matchup guys, but asking them to face batters of the opposite hand on a regular basis is a recipe for trouble. There's no way around it, the team's biggest weakness right now are those innings between the starter and the Boone Logan/David Robertson setup duo.
To make matters worse, Garcia is not stretched out — he's probably scheduled for something like 60-70 pitches tonight — and Phelps is expected to throw only 80 pitches when he makes his return to the rotation on Wednesday. Not only is the middle relief a sore spot, but the Yankees will send two starters to the mound against the Rays this week who will be unable to pitch deep into the game. The Mitchells and Wades and Quallses will be ripe for exposure. That also puts some pressure on Ivan Nova to give the team some distance on Tuesday. After years of beating up on the middle relievers of other teams, the Yankees might get a taste of their own medicine against Tampa.
The good news is that this is just temporary. Sabathia figures to be back shortly after the All-Star break and both Garcia and Phelps will get stretched out before long. Middle relief is relatively easy to fix, at least in the sense those guys are easy to replace if they stink. The Yankees aren't committed to any of them long-term, so if Qualls stinks they can cut him and try someone else. If Wade doesn't right the ship they can send him on his way. Joe Girardi & Co. have been building and rebuilding bullpens on the fly for five years now, no reason they can't do it again. For the next three days though, we're all going to have to hold our breath whenever that bullpen door swings open prior to the seventh inning.