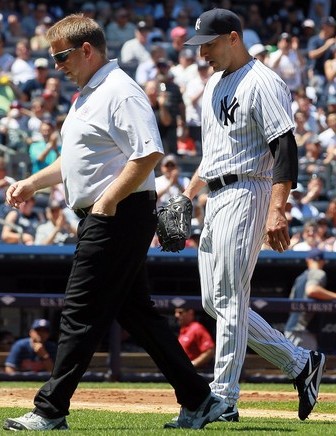 The Yankees have the best record in the American League and the best record in the AL East by no small margin, and they've gotten there despite a number of significant injuries. Offseason pickup Michael Pineda has yet to throw a meaningful pitch for the team thanks to his torn labrum, Brett Gardner has started all of seven games, Mariano Rivera tore his ACL in a fluke accident, Andy Pettitte had his ankle broken by a batted ball, and Alex Rodriguez had his hand broken on a hit-by-pitch. The list of injuries to non-essential players is even longer.
Yesterday we learned that Pettitte suffered a setback during his rehab, a minor setback but a setback nonetheless. Brian Cashman called it the "ebb and flow" of rehab and said he wasn't progressing as hoped, which qualifies as a setback in my book. Gardner suffered not one, not two, but three (!) separate setbacks before finally having season-ending surgery, three months after the original injury. Pineda was working his way back from shoulder tendinitis when he apparently suffered the tear. That's an awful lot of setbacks this year, to the point where you wonder if it's a trend and not just a coincidence.
Obviously injuries are just unavoidable at times — the Gardner, Rivera, Pettitte, and A-Rod injuries were the definitions of fluke — but it seems that if you're a Yankee and you get hurt theses days, you stay hurt. David Robertson (oblique) and CC Sabathia (groin) made it back from their ailments in short order and Joba Chamberlain has breezed through his rehab (his setback was self-inflicted), but they are the lucky ones. Even if you go back to last year, there were setbacks from Phil Hughes (shoulder), Pedro Feliciano (shoulder), and Rafael Soriano (elbow). Again, coincidence or trend?
I think durability is the most underrated skill in the game. Every team, particularly those in the AL East, is so well run these days that winning isn't just about having the best players, it's about having the best players and keeping them on the field as much as possible. Are all these setbacks a medical staff problem? A fluke? Are players being rushed back before they're 100% ready to go for the sake of winning? Remember, Joe Girardi took it easy on Robertson when he came back from the oblique because he wanted "to be cautious." Did Robertson come back sooner than maybe he should have? I think all of those questions are fair game.
The Yankees have weathered their injuries as well as could be expected thanks to both strong depth and unexpected performances (Dewayne Wise and David Phelps in particular). Pettitte had his setback yesterday and if something happens to throw A-Rod off the recovery course, his season will be effectively over. We shouldn't spend time every summer talking about how the best additions the Yankees could make at the trade deadline are getting their own players back and healthy, all of these setbacks are a concern because they're happening so frequently.