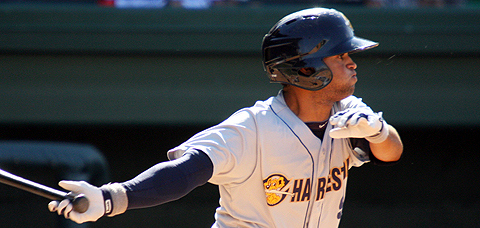 The Yankees' needs leading up to the trade deadline are pretty clear. The pitching staff needs reinforcements — both the rotation and bullpen — and the bench can use an upgrade, specifically behind the plate and on the infield. There is always room for improvement with the rest of the roster as well, but those two aspects of the team figure to get the most attention prior to July 31st.
Trading is a two-way street though, and you have to give something to get something. For the last two or three years the Yankees had a significant carrot to dangle in Jesus Montero, the type of upper-level impact prospect that gets your foot in the door for any trade negotiation. With Montero in Seattle, Manny Banuelos injured, and Dellin Betances demoted to Double-A, the Yankees are left without that high minors stud to offer. That leaves them at a disadvantage when it comes to pursuing impact players like Cole Hamels or Zack Greinke or whoever else you can come up with.
The cupboard is not bare, however. The Yankees do still have a number of prospects — include top shelf guys — to offer up in trades. I've already written about using impending Rule 5 Draft eligible players in deals, but now let's look at where the the Yankees have the most organizational depth to use as ammunition at the deadline (in no particular order)…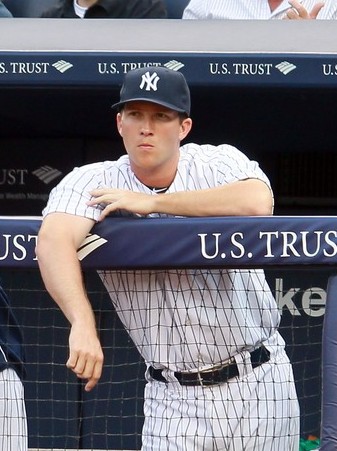 Triple-A Pitching
Adam Warren's disastrous big league debut dimmed his prospect shine a touch but thankfully front offices won't change their evaluation of a player based on one game (barring injury). He remains the same back-end pitching prospect as always, just now he has two or three days of MLB service time to his credit. D.J. Mitchell is in the same boat as well, though David Phelps has separated himself from those two just a bit because he's experienced some big league success. Plus we heard back in Spring Training that he was generating buzz with improved velocity.
Those three definitely have trade value, primarily because they're dirt cheap, offer six years of team control, and have multiple minor league options remaining. At similar points of their careers, guys like Zach Stewart, James McDonald, Clayton Mortenson, and Clayton Richard were included in trades in recent seasons for anything from a rental reliever to multiple years of a star caliber player. Teams value the cost control and flexibility.
Single-A Prospects
New York's best prospects are all young kids down in the lower levels of the minors, years away from making it to the majors, let along having an impact. It's tough to build a trade package around those guys, but they do have value. Outfielders Mason Williams and Tyler Austin highlight the group along with catcher Gary Sanchez, and to a lesser extent there is outfielder Slade Heathcott and infielder Angelo Gumbs. Williams, Austin, and Sanchez are the headliners though; they're the ones we'll see in all of the top prospect lists this coming winter.
In recent years we've seen some big names — Dan Haren, Hunter Pence, Roy Halladay, etc. — dealt for packages built around high-end prospects in the lower minors. The other pieces in those trades were lesser big league ready guys, so it can be done. It's just a question of finding the right trading partner and a team willing to take the long-term rebuilding route. That's much easier said than done.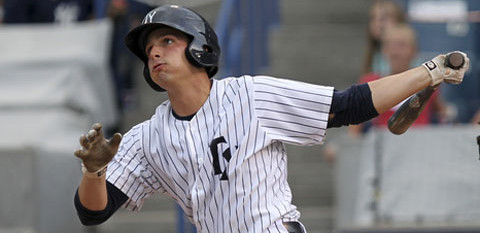 Catching Depth
The Yankees have stocked up on offense-first catchers in recent years and with good reason — quality catching is hard to find. Heck, it's so hard to find that a team called about Austin Romine's availability this spring even though he was on the DL with a somewhat serious back issue. They have J.R. Murphy in Double-A and Sanchez in High-A to go along with the recently drafted Peter O'Brien and recently signed Luis Torrens. Even Frankie Cervelli has trade value because he's cheap and has a big league track record we can reference. As much attention as those three Triple-A starting pitchers and Single-A high-end prospects get, the catching depth may be the team's best weapon at the trade deadline.
Infield Depth
Mark Teixeira, Robinson Cano, Derek Jeter, and Alex Rodriguez aren't going anywhere, which means if you're an infielder in this team's farm system, you have two paths to the big leagues: become a bench player like Eduardo Nunez or get traded. We know that several clubs have expressed interest in Nunez in the past, plus David Adams was supposed to be part of the Cliff Lee trade until he smashed his ankle. The Yankees still have those two to market as well as Corban Joseph, who's been played very well in Triple-A. I do think Brandon Laird and Ramiro Pena is valueless at this point, however.
* * *
As Brian Cashman likes to say, no one is untouchable but some are more touchable than others. I don't think they would consider trading Ivan Nova or Phil Hughes unless it was part of a major package with a star caliber player coming back, which seems unlikely at this point. If/when the Yankees swing a deal at the deadline, they won't have any aces up their sleeve. Their closest to the Majors prospects are back-end pitchers and their highest ceiling prospects will take years to get to the show. Then again, the team's best asset at the deadline just may be it's ability to absorb salary.